When:
March 28, 2021 @ 7:30 pm
2021-03-28T19:30:00-07:00
2021-03-28T19:45:00-07:00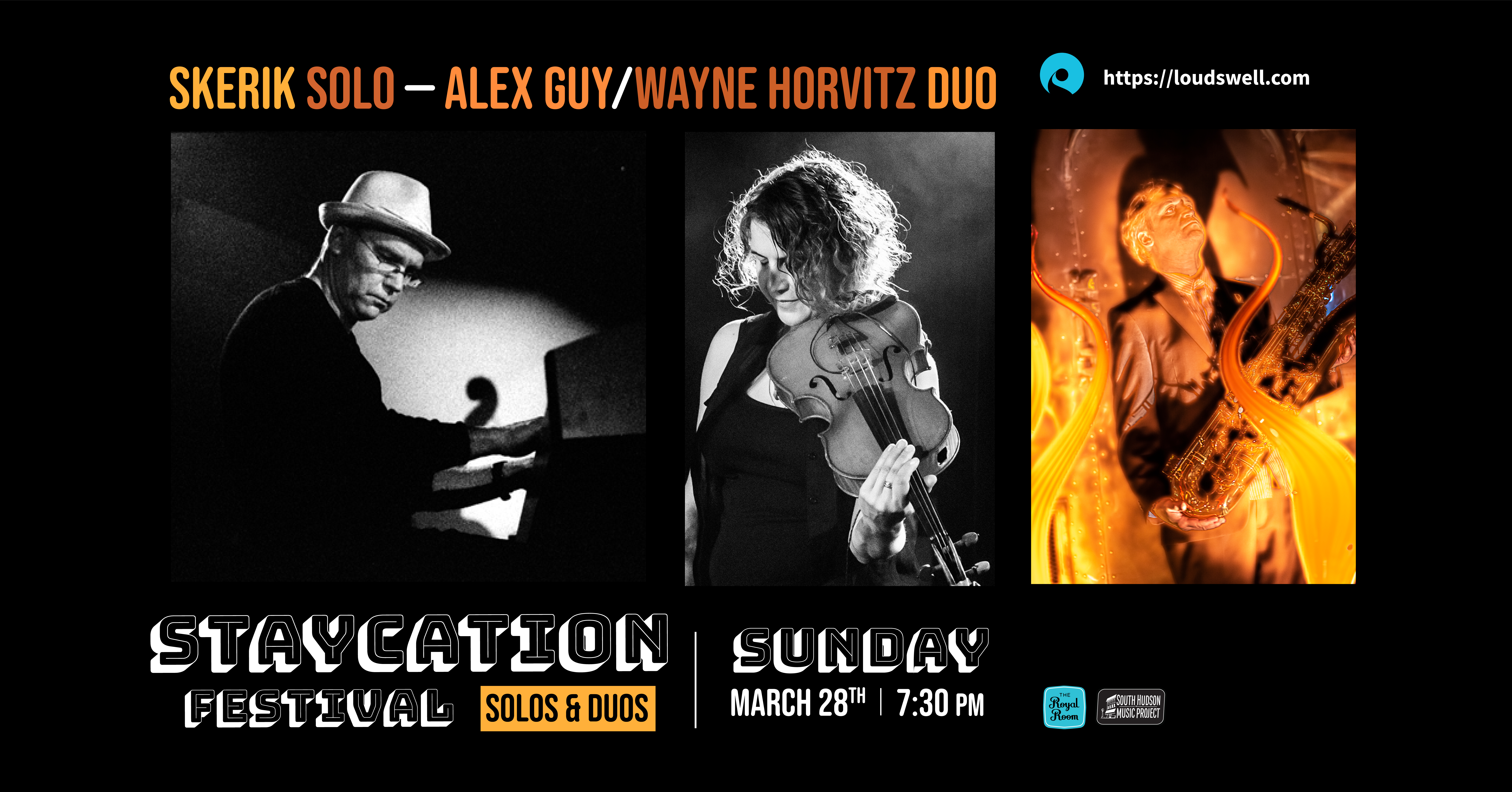 Join us on Sunday evenings for the 2021 South Hudson Music Project Staycation Festival, featuring live solo and duo performances by Seattle based musicians and improvisers. On March 28th, hear a duo set from Alex Guy and Wayne Horvitz and a solo set from Skerik.
Wayne Horvitz is a composer, pianist and electronic musician. He is the 2016 recipient of the Doris Duke Performing Artist Award, the NEA American Masterpieces Award and three MAP Fund awards. He has been commissioned by the Kronos Quartet, The icicle Creek Trio, The Seattle Symphony, BAM and The Kitchen among others. He is collaborated with, among others, Bill Frisell, Robin Holcomb, Gus Van Sant, John Zorn, and Butch Morris. He appears on over 300 CDs, 30 as a leader.
"On piano, Horvitz is economical yet lyrical, never venturing far from the strong melodic hooks which characterize his compositions, but constantly working small suprises. An irresistible antidote to gray days." – The Wire UK
Violinist, violist, and composer Alex Guy is the leader and principal songwriter for Led To Sea, a magnetic chamber-pop trio that fuses classical, pop and experimental music. Their live show has captivated audiences all over the U.S. and Europe, and draws comparisons to St. Vincent and Andrew Byrd. As a solo musician Alex has performed and collaborated with a virtual who's who of bandleaders, composers, improvisers and jazz musicians in the Pacific NW and beyond, including Angel Olsen, Thao and the Get Down Stay Down, Mirah, Sera Cahoone, Laura Veirs, Ahamefule Oluo, Wayne Horvitz, Amanda Palmer, and many more.
"Alex Guy (as Led to Sea) is one of those artists, like St. Vincent or Andrew Bird, who approaches pop music with the eye of a classical composer, breaking down and rebuilding pop tropes into something resembling fine art. It's a constant balancing act, combining classical and pop. But in Led to Sea's case, Guy is able to have her cake and eat it too. " — Weekly Volcano
Skerik is a renowned saxophonist and multi-disciplinary musician based in Seattle. Skerik is the leader of several groups within the area including Skerik Band, LORBO and Crack Sabbath. He has recorded on over 200 records as a saxophonist, horn section player and keyboardist, performing with such people as Kidd Jordan, John Scofield, REM, and Pearl Jam among others.
"From his intelligent interpretations of abstract astral jazz to sinister sessions of psychedelic funk grooves, punk'd up art rock to Sun Ra space oddities, the forever-inimitable Skerik has developed a well-earned reputation for the weird, wily, and wild." – B. Getz
Join us for our recurring series titled 'Staycation Festival', a series of streaming events at the Royal Room, co-hosted by Live Concerts Stream.
You can stream the show at Loudswell.com, and on The Royal Room Facebook page.
Both sites will have a link to donate to the artists.
Performed live on The Royal Room stage, following all Washington State Department of Health guidelines.