When:
September 26, 2020 @ 7:30 pm
2020-09-26T19:30:00-07:00
2020-09-26T19:45:00-07:00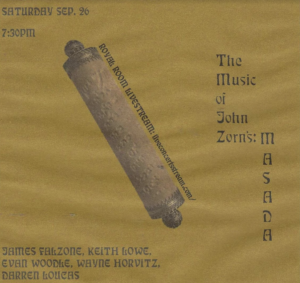 Joining together for a High Holiday celebration are musicians James Falzone, Wayne Horvitz, Darren Loucas, Keith Lowe, and Evan Woodle. They will combine to play John Zorn's repertoire of radical Jewish music, a project entitled Masada. This music conjoins elements of 1960's Ornette Coleman with sacred Jewish music. In the late 90's Masada was considered one of the most important jazz bands of the decade. By taking inspiration from traditional klezmer ensembles while at the same time referencing the contemporary sounds of Coleman, Zorn was able to shape a new Jewish music which was contemporary, expressive and redefined.
"Masada, which he began in the early 1990s, was an attempt to explore his [John Zorn's] own roots and expand the idea of Jewish music through a "songbook" that linked the language of klezmer and jazz." – Ben Sisario The New York Times
James Falzone – clarinet
Wayne Horvitz – piano
Darren Loucas – guitar
Keith Lowe – bass
Evan Woodle – drums
Join us for our recurring series titled 'Staycation Festival', a summer-long series of streaming events at the Royal Room, co-hosted by Live Concerts Stream.
You can stream the show at LiveConcertsStream.com, and on the Royal Room Facebook page!
Royal Room page: facebook.com/royalroomseattle/
Live Concerts Stream: liveconcertsstream.com/
Both sites will have a link to donate to the artist 🙂
Performed live on The Royal Room stage, following all Washington State Department of Health guidelines.