When:
January 22, 2020 @ 7:30 pm
2020-01-22T19:30:00-08:00
2020-01-22T19:45:00-08:00
Cost:
Tickets: $15adv/$18dos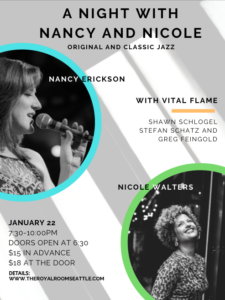 Doors at 6:30pm

To guarantee a good seat, please make your dinner reservation through our reservations page on our website.
Advance tickets can only be purchased online. We do not sell advance tickets at the venue. Refunds are not available within 48 hours of the event.
Nicole Walters didn't understand what "thou", "oft", or "hast" meant as a 7-year-old but she fully understood the magic she felt singing them from her father's pulpit. Nicole still basks in that same magic today each time she sings on Seattle's jazz stages.
The love for music that began with yellowing hymnals has followed Nicole throughout her life. In high school she participated in musical theatre and discovered her talent for songwriting. After marrying her childhood sweetheart, Nicole moved from California to Colorado. There she established and wrote songs for His Beloved, a Gospel, neo soul trio. Later, she was a founding member of Dave LeMieux and House of Soul, a 14-piece Gospel/Jazz ensemble. In that band Nicole co-wrote award-winning songs and toured both nationally and internationally.
Today Nicole has built upon her Gospel music roots to embrace her love for jazz in Seattle, where she currently resides. An active member of the Emerald City's vibrant jazz community, Nicole brings her warm vocals and inviting presence to every performance. Influenced by the likes of Abbey Lincoln and Sarah Vaughn, Nicole's delivery of both jazz standards and her own compositions is a uniquely soulful experience full of contagious freedom, playfulness, and energy.
Facebook
Instagram
Website
Born and raised in Salem, Oregon, Nancy Erickson has studied music her entire life. "When I was growing up, all types of music were ever-present in my home. We listened to everything from Frank Sinatra, Don Ellis, Peggy Lee, & Louis Armstrong to The Beatles, Blood, Sweat & Tears, Frank Zappa, The Band, and soundtracks from musicals". The music that filled her home became the foundation that would yield one of the more versatile musicians in the Seattle area.  With influences like Nancy Wilson, Frank Sinatra, Dianne Reeves, and Peggy Lee, Nancy's wide-ranging alto voice has been compared to Karen Carpenter and Ella Fitzgerald.
Nancy relocated to Seattle in 1982, studying music theory & directing at Edmonds Community College under the tutelage of Frank DeMiero, Al Galante, and Rick Asher. She toured Europe in a jazz group and is accredited with performing in both the North Sea Jazz Festival in the Netherlands & the Montreux Jazz Festival in Switzerland and had the opportunity of sharing the stage with such greats as Ernestine Anderson, Mark Murphy, the Hi-Lo's, The Four Freshmen, Ward Swingle, and Mimi Perrin. Other notable appearances have been with Matt Catingub, Tom Kubis, Bill Ramsey, Roger Treece, Michael Powers, and Lenny Williams.
Nancy began her career after college by singing in a NW jazz band called After Hours, which performed around Seattle for several years during the late 80's and early 90's. Nancy later recorded and co-produced a Christmas CD entitled "Urban Christmas" in  1993 under the group name, 'Xebec'. Shortly after, she took a break from jazz while raising her children and arranged and performed music locally that contained facets of pop, rock, country, and R&B. She returned to performing in larger venues by singing backup with the Northwest R&B band Freddy Pink. Nancy also did some backup work with the band Nearly Dan (a Steely Dan tribute band) and sang in Praise! with Bernadette Bascom.
In 2009 Nancy returned to her jazz roots; "I'd been singing other styles in various bands but when I started sitting in at jazz jams I remembered where my heart lies musically and truly where my niche is." Her 2011 debut CD, "Prelude" received positive reviews and she has become a staple in the Pacific Northwest Jazz scene. She then received accolades by winning the 2012 Seattle-Kobe Jazz Vocalist competition at Jazz Alley, resulting in a thrilling performance in Kobe, Japan at Asahi Hall which was broadcast live online to over 5,000 viewers. Nancy recorded her sophomore album "While Strolling Through the Park" in 2016 which was well-received and propelled her career.
Nancy released her third solo CD "Nancy Erickson – Here and Now" in August, 2018. This album was recorded live by Jim Wilke (Jazz Northwest – KNKX) and includes unique arrangements of jazz standards (Honeysuckle Rose, Hot House, Night in Tunisia), some non-jazz tunes (Sting's 'Fragile'), and an original piece (Let Love Begin) written by Nancy Erickson & Darin Clendenin. "Here and Now" features the musical skills of the 200 Trio (Greg Feingold, Cole Schuster, Max Holmberg) and Alex Dugdale.
Facebook
Instagram
Website
Youtube
Please note: Tickets do not guarantee seating during shows at the Royal Room. For sold out shows standing room may be the only available space. Please come early to ensure you get a table. Reservations can be made for those who are coming for dinner as well as the show. The Royal Room is All Ages until 10pm.