When:
October 29, 2020 @ 8:30 pm
2020-10-29T20:30:00-07:00
2020-10-29T20:45:00-07:00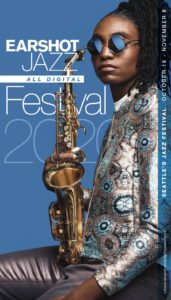 The Resident Artist of this year's festival presents his driving new quartet from the jazz friendly vibe of the Royal Room. Tim Kennedy (piano), Geoff Hbarper (bass), and D'Vonne Lewis (drums) accompany the outstanding trumpeter.
AHAMEFULE J. OLUO is a Seattle-based musician, composer, and comedian. Oluo co-founded the Stranger Genius Award-winning hard-jazz quartet Industrial Revelation and is also leader of the jazz-punk trio The Honorable Chief. He has collaborated with Das Racist, Hey Marseilles, Macklemore, Tacocat, Cataldo, and many others. He works extensively with his wife, writer Lindy West, and co-produced comedian Hari Kondabolu's debut album, waiting for 2042, for Kill Rock Stars. He was the inaugural artist-in-residence at Seattle's Town Hall, and his 2014 performance of Now I'm Fine at On the Boards received universal acclaim. In 2015, Oluo was featured on This American Life.