When:
August 7, 2022 @ 6:00 pm
2022-08-07T18:00:00-07:00
2022-08-07T18:15:00-07:00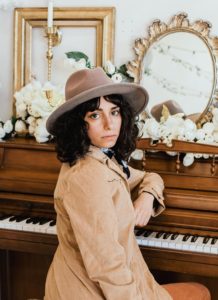 Doors: 5pm
Tickets: $15 advance, $20 doors
COVID PROTOCOLS: All our staff are fully vaccinated, and we ask that our patrons be vaccinated as well. Our staff will be masked, and we encourage our audience to wear masks as much as possible.
Advance tickets can only be purchased online-we do not sell advance tickets at the venue. Refunds are not available within 48 hours of the event. Tickets do not guarantee seating during shows at the Royal Room. Seating is first come first served. The Royal Room is All Ages until 10pm.
Internationally acclaimed, bilingual singer/songwriter and 2021 Houston Chronicle "Musician of the Year," Amanda Pascali was born in Queens, New York, and is based in Houston, Texas. Often referred to as a "young, female, and Italian Bob Dylan," Amanda has released music and performed internationally, from the Kennedy Center in Washington D.C. to packed houses in Italy, Romania, and across the Eastern hemisphere.
With a father who was thrown out of his home country for rebelling against the government, Amanda was driven from a young age to be a messenger of her family's stories and diaspora. As the rising voice of America's most ethnically diverse generation of young people, 24-year-old Pascali writes songs that speak to the experience of growing up as a first-generation American. Amanda's music, now coined, Immigrant American Folk delivers a powerful narrative on being- "too foreign for here, too foreign for home, and never enough for both".
In the Spring of 2022, she was selected to be an Artist in Residence at Sawyer Yards Winter Street Studios in Houston where she pioneered the Other Side project; an initiative to highlight the stories and contributions of Houston's immigrants in all artistic disciplines. Her new EP, The Messenger is slated for release during the Summer of 2022. She is a board member of the music-
activism non-profit Music to Life started by Noel Paul Stookey, of the 1960s civil rights folk band "Peter, Paul and Mary" and his daughter. In the Fall of 2022, she will embark on a nine-month trip through Sicily to preserve and translate traditional working-class songs as a Fulbright Fellow and ambassador endorsed by the US State Department and the Italian Ministry of Foreign Affairs.
Ollella's career as a musician started early, when she sang before she could talk. Trained as a classical cellist since the age of nine, the Seattle indie-folk musician blends her technical background with authoritative vocals, live-looping, and improvisation. Pulling on influences like Florence + the Machine, Cat Power, and Zoë Keating, she blends the acoustic with the contemporary, folk with pop, and tenacity with softness. Her playing has been featured in films screened at Film Festivals such as Sundance and Aspen Film Fest; on recordings with others, including Grammy-winning artist Peter Kater; and has shared stages with popular Americana acts such as the Shook Twins and Rising Appalachia.