When:
October 23, 2020 @ 8:30 pm
2020-10-23T20:30:00-07:00
2020-10-23T20:45:00-07:00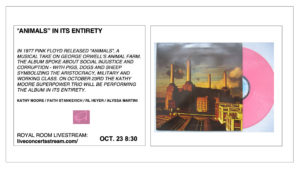 In 1977 Pink Floyd released the album Animals. A musical take on George Orwell's Animal Farm. The album spoke about social injustice and corruption – with pigs, dogs and sheep symbolizing the aristocracy, military and working class respectively. On October 23rd The Kathy Moore Super Power Trio comprised of Kathy Moore, Faith Stankevich and Alyssa Martini alongside musical savant RL Heyer will be performing the album in its entirety.
Kathy Moore – guitar, voice
Faith Stankevich – drums
Alyssa Martini – bass 
RL Heyer – guitar
Join us for our recurring series titled 'Staycation Festival', a summer-long series of streaming events at the Royal Room, co-hosted by Live Concerts Stream.
You can stream the show at LiveConcertsStream.com, and on the Royal Room Facebook page!
Both sites will have a link to donate to the artist 🙂
Performed live on The Royal Room stage, following all Washington State Department of Health guidelines.