When:
November 12, 2019 @ 6:00 pm
2019-11-12T18:00:00-08:00
2019-11-12T18:15:00-08:00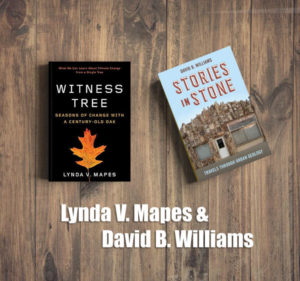 Doors at 5:00pm
To guarantee a good seat, please make your dinner reservation through our reservations page on our website.
Seward Park Audubon Center celebrates the latest works from two of Seattle's best-recognized writers on the natural world. In 'Witness Tree' Seattle Times writer Lynda Mapes captures a year in the life of a venerable oak in the Harvard Forest. With his book 'Stories in Stone' David Williams peers into "urban geology" across the country to reveal stone marvels embedded in remarkable structures and pathways. The two share the Royal Room stage for an evening for lovers of natural history and great writing.
Free event, pre-reservation required. Ticket link above.