When:
May 9, 2020 @ 7:00 pm
2020-05-09T19:00:00-07:00
2020-05-09T19:15:00-07:00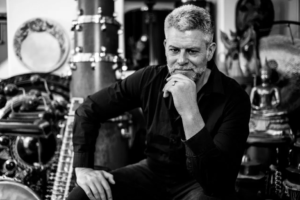 Doors at 6:00pm

To guarantee a good seat, please make your dinner reservation through our reservations page on our website.
Advance tickets can only be purchased online. We do not sell advance tickets at the venue. Refunds are not available within 48 hours of the event.
This is the first run of Barrett Martin's one-man show, a combination of his spoken word stories, and solo performances on drum set, upright bass, vibraphone, gamelans, and marimba as he plays along with various percussive/ambient songs taken from his 9 solo albums over the past 15 years. In between songs, he'll be telling stories from his 2 books about music, culture, and environment around the world, across 6 continents, including videos and photos taken in these places. It's a truly magical show designed in the Olde Ways of musical storytelling. Please join us for this very special evening, and you'll also learn a few new things about the magical beauty of our shared world.
The Critics Weigh In:
"Martin has filtered his ongoing interest in ethnomusicology, his own personal studies, and his many stories from the field into smart, edifying prose meant to open up fellow curiosity-seekers to the possibilities of sound and culture." – Downbeat
"Barrett Martin, drummer for Screaming Trees, Mad Season, and others, explored a similarly liminal zone with help from fellow Seattle heavies like Kim Thayil on "Songs Of The Firebird," a vibrant, beat-driven odyssey that touches on jazz, rock, classical, and Afro-Cuban music without sounding disjointed." – Rolling Stone
"Barrett Martin is a polymath, a shaman of music, and "Songs Of The Firebird" is the soundtrack to his latest book, "The Way of the Zen Cowboy." -Modern Drummer
"Those who read and listen to the musical journey that Martin recounts will find themselves transported through exotic global landscapes, where they learn about the links between ecology, community, and the music that connects us to our greater humanity." -Yahoo Music
"Martin's compositional skills shine on this revved-up outing that is reminiscent of the burgeoning jazz fusion scene of the 1970s, when musicians integrated rock, funk and soul into the jazz vernacular. But Martin also imparts a modern sheen into these largely groove-laden works, packed with endearing hooks and sprightly rhythmic content." -All About Jazz
"Ambient and dreamy… it shows the range of colors Martin can evoke with his sticks as paint brushes. Wide palate!" -Jazz Weekly
"The music is generally a muscular, funky blend of jazz and Afrobeat, with plenty of space for the baritone sax to punch you in the gut." – Stereogum
Please note: Tickets do not guarantee seating during shows at the Royal Room. For sold out shows standing room may be the only available space. Please come early to ensure you get a table. Reservations can be made for those who are coming for dinner as well as the show. The Royal Room is All Ages until 10pm.