Registrations have closed.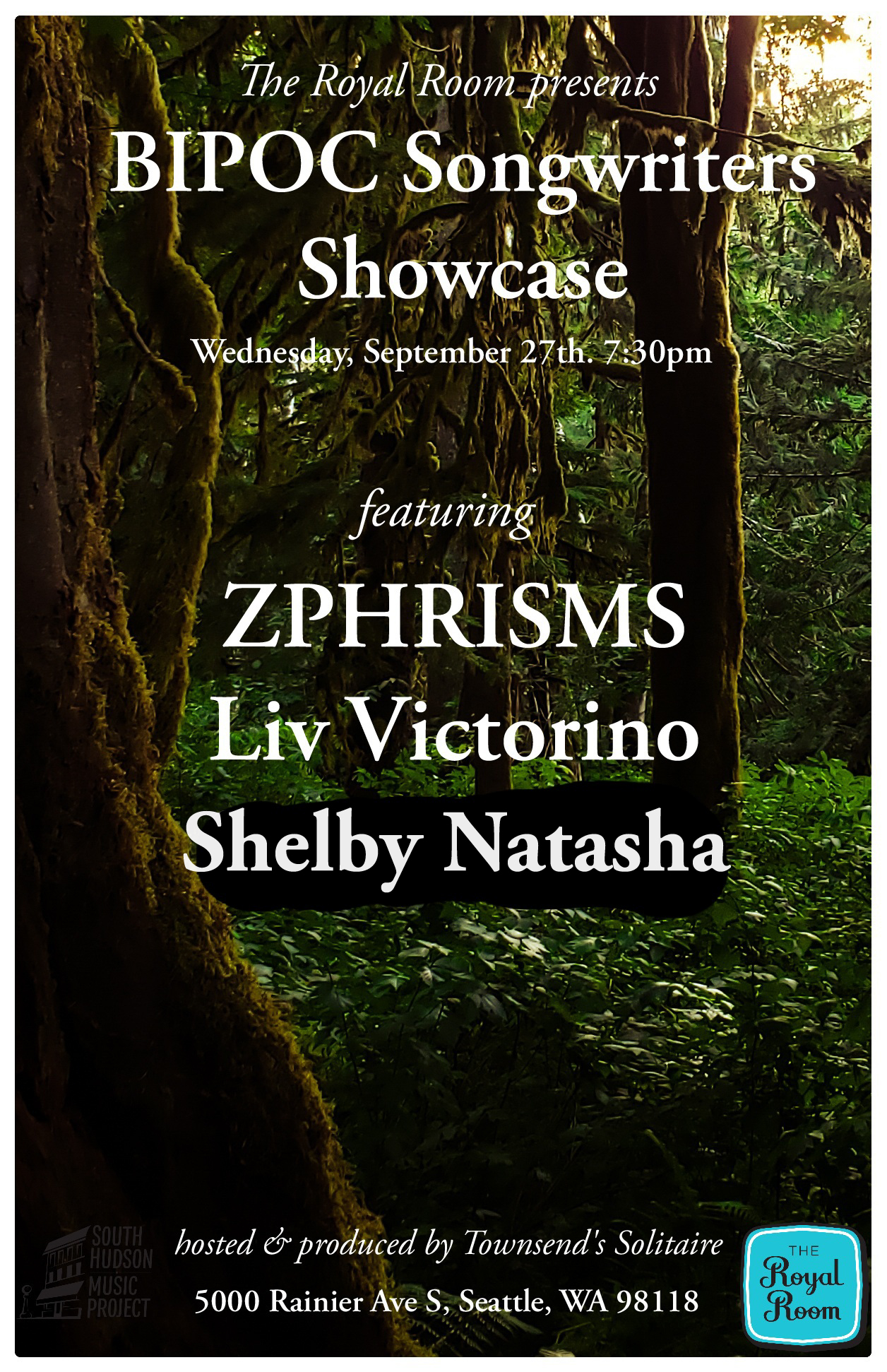 BIPOC Songwriters Showcase featuring ZHPHRISMS, Liv Victorino, and Shelby Natasha
193
193 people viewed this event.
Doors: 6:30pm
Tickets: $15 advance, $20 doors
Advance tickets can only be purchased online-we do not sell advance tickets at the venue. Refunds are not available within 48 hours of the event. Tickets do not guarantee seating during shows at the Royal Room. 
We are now accepting reservations for diners! After purchasing tickets, please visit the Reservations page to book a table. Table reservations require advance tickets, and are only for guests who plan to dine at the Royal Room.  We do not take reservations over the phone.
Seating for non-diners is first come, first served. Please arrive early to guarantee a seat!
The Royal Room is All Ages until 10pm.
ZPHRISMS: Zphr has been singing before he could do his multiplication tables, and in the two decades since his tenure in the Atlanta Public Schools' Honors Chorus, he's racked up an impressive list of musical accomplishments and feats. Playing in bands throughout the 2000s and 2010s in the NC Triangle and Atlanta areas, he's honed in on a unique sound that combines the smoothness of '90s R&B with the ear-grabbing textures of electronic music, the emotional impact of gospel and soul, and the body-shaking, feel-it-in-your-bones danceability of funk and pop. Just as loose, languid, and indefinable as his namesake, Zephyr, the west wind, Zphr crafts his work without the limits and boundaries of genre; it either feels right or it doesn't.
His new Seattle-based project, Zphrisms, is the culmination of that sound and ideology, featuring a five-piece ensemble with keys, synths, guitar, bass and drums. The true joy of watching a Zphrisms show is that, while you can never know exactly what you'll get, you do know it'll leave you wanting more. Oscillating between super snappy, tight rhythms, catchy melodies, extended funked-out jams, bonafide ear-worming hooks, and loose, free-flowing sonic landscapes, Zphrisms keeps audiences rapt. They have a remarkable ability to get even the stuffiest audiences up on their feet and moving to the music, winning over every room they play. Between the various members, they have multiple music degrees and decades of musical experience in a variety of genres ranging from classical to jazz to alternative metal and back.
Funk, soul, jazz, R&B, pop, rock; dancing, crooning, moving, shaking, vibing – there's something for everybody in a Zphrisims show. They've played Connor Byrne, blue moon, skylark, and central saloon.
Instagram:  https://instagram.com/zphrisms?igshid=MjEwN2IyYWYwYw==
Liv Victorino: Liv Victorino graduated college in June of 2022 with her debut EP "Sheer Force of Will" under her belt. At the time, she had nothing but free/hacked software and a USB microphone, developing a genre-philosophy she coined "Freeware Folk". Despite these material constraints, Victorino's debut touched thousands of ears through recurring broadcasts on Seattle's flagship radio station KEXP. Since playing her first show in 2021, she's grown to be a Seattle favorite with local radio, podcasts, and bookers. This year, a photography exhibition was titled "Before the World Ends" according to the closing track.
Victorino had been playing drums for 4 years in several bands before picking up a guitar at 18. Through the unofficial songwriting school of Elliott Smith, she began to craft her signature fingerpicked melodies and emotional writing style. Robin Pecknold of Fleet Foxes noted a "great melodic sense" after a first encounter with her EP.
In 2019, she founded the University of Washington's "The Songwriters Circle" who's mission is to introduce college musicians like herself to the music scene in Seattle at large. Since, they have produced dozens of concerts, open mics, and events, and the group has since spread its roots to the East Coast. 2023 saw the debut of The Songwriters Circle at The University of Vermont.
She spends her time between her eponymous solo project, the alternative shoegaze band PONZI, and drumming in pleasantbusstop. Her accolades expand readily to her circle of collaborators, creating a new sound in Seattle's University District, a phenomenon hardly present since the 1990s.
Liv Victorino (@liv_victorino) • Instagram photos and videos
Shelby Natashais a songwriter and music producer in Seattle, Washington. Heavily influenced by her upbringing living between China and the Pacific Northwest, her music is a blend of alt-rnb and Chinese folk music. Her ghost-like vocals are performed alongside the traditional Chinese instrument, Guzheng, keyboard, and layered on top lofi beats. Her performance career began with Sofar Sounds, performing at over 80+ shows with them around the United States and is setting off on tour with them mid October.
Townsend's Solitaire: Bobby Odle, a Seattle based singer-songwriter performing under the moniker Townsend's Solitaire, is a classically trained percussionist turned folk musician.
Whilst living in Ashland, Oregon, faced with completing a master's degree in percussion performance, as well as a worldwide pandemic, Townsend's Solitaire turned his creative eye towards poetry and songwriting. Drawing heavy influence from artists like The Tallest Man on Earth, Adrianne Lenker, Bright Eyes, and Sufjan Stevens – Townsend's Solitaire prioritizes and treasures genuinity above all else. His music is primarily fingerstyle acoustic guitar paired with a single vocal line singing lyrics addressing common anxieties, loss, and a love for life in this world – all the while drenched in a somber melancholy and nostalgia. His ensemble has mixtures of cello, violin, flute, clarinet, and piano.
Bobby Odle (@townsendssolitaire) • Instagram photos and videos