When:
September 23, 2022 @ 8:00 pm
2022-09-23T20:00:00-07:00
2022-09-23T20:15:00-07:00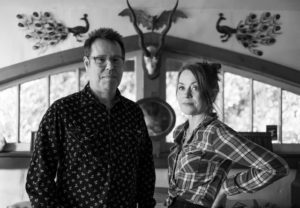 Doors: 7pm
Tickets: $15 advance, $20 doors
COVID PROTOCOLS: All our staff are fully vaccinated, and we ask that our patrons be vaccinated as well. Our staff will be masked, and we encourage our audience to wear masks as much as possible.
Advance tickets can only be purchased online-we do not sell advance tickets at the venue. Refunds are not available within 48 hours of the event. Tickets do not guarantee seating during shows at the Royal Room. Seating is first come first served. The Royal Room is All Ages until 10pm.
In the greatest duos, the dynamic between individuals generates a sound all its own. Voices and visions co-mingle completely, alchemising into a union that transcends "complementary" or "contrasting." While musician, producer and engineer Johnny Sangster, and musician/ songwriter Leslie Braly are both established artists in their own right, the music they make as Braly Sangster owes everything to their chemistry. The twelve songs of Permanent Wave touch on many styles ("Tease It Out" evokes '80's college radio faves like the Replacements' "Kiss Me On the Bus;" and "I Belong With You" reminiscent of the Everly Brothers' "Let It Be Me") yet Braly Sangster always sound – and feel – simpatico throughout this set of original duets. —Kurt B. Reighley
Permanent Wave is the first full length recording from Braly Sangster; a collaboration between Seattle Musicians Johnny Sangster (Neko Case, Mudhoney, Tripwires) and Leslie Braly (Pineola.) Playful, reflective lyrics; layered harmonies; articulate guitar.
Casey Neill is a songwriter from Portland, Oregon performing high energy indie folk, infused with haunting melodies and weather beaten narratives. Neill performs as a solo act as well as with his band, The Norway Rats. He tours throughout the USA, Japan, and Europe, performing at venues such as Town Hall in New York, San Francisco's Great American Music Hall, and the Newport Folk Festival. The latest Casey Neill & The Norway Rats album 'Subterrene' is a major leap forward that No Depression calls "a milestone in Neill and company's trajectory thus far" while Rolling Stone says "(Neill's) songs mask their complexities beneath a simple, singalong-worthy surface… these swimming waters have serious depth." Casey is a frequent member of power pop band The Minus 5 along with Scott McCaughey and Peter Buck of R.E.M. (who both guest on 'Subterrene'). A new full length Norway Rats record 'Sending Up Flares' is set for an early 2023 release.
Critic Marco Rivera described it best for music blog Splendid: "Be it through raucous rockers, fragile acoustic ballads, passionate bursts of punk fury or soulful touches of Irish folk, Neill's narrative talent and concern for real people's struggles stand out. (Neill) evokes an epic feel that fits perfectly with the implicit grandiosity of this emotional material, delivered with a raspy, affectionate voice that recalls Life's Rich Pageant-era Michael Stipe. The results are so evocative, you'll be tempted to steep further in these memories, the better to share Casey Neill's particular blend of personal and historical experience."