When:
May 7, 2023 @ 8:00 pm
2023-05-07T20:00:00-07:00
2023-05-07T20:15:00-07:00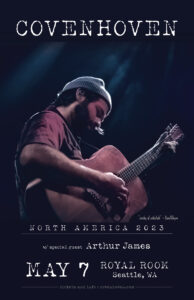 Doors: 7:30pm
Advance tickets can only be purchased online-we do not sell advance tickets at the venue. Refunds are not available within 48 hours of the event. Tickets do not guarantee seating during shows at the Royal Room. We are now accepting reservations for diners! Please email reservations@theroyalroomseattle.com for a table. The Royal Room is All Ages until 10pm. All our staff are fully vaccinated, and we ask that our patrons be vaccinated as well. 
Covenhoven is nationally recognized indie artist Joel Van Horne, a multi-instrumental singer-songwriter whose rich harmonies, reedy baritone and commanding falsetto have found a home with critics and fans since 2013.
Through 4 full length albums and 2 EPs Covenhoven has forged a signature style; layered acoustic arrangements that roll with momentum into orchestral peaks, accompanied by lyrics that contrast hard-won wisdom with the inherent hope of the natural world—from Big Sur to his native Colorado.
Covenhoven's latest album, IV (released in October 2021), is his most collaborative and rock forward to date—taking a producing partner in Ben Wysocki of the Fray, who also performs on the album. IV features over a dozen musicians including Grammy nominated singer-songwriter Gregory Alan Isakov, Luke Mossman of Nathaniel Rateliff & the Night Sweats, and Bluebook's Julie Davis.
Covenhoven's live performances capture the spirit of his recordings—whether its conjuring cascading loops in his solo shows or backed by a full band—Covenhoven's sound fills the breadth of outdoor spaces, auditoriums and club stages.
"There's a cohesive message coursing through the twelve gorgeously crafted songs: that though we've all moved through unimaginable pain and loss, life still has so much beauty to offer." – Karyna Balch — Soundpost Sessions Blog
"From well-crafted ballads that ache with bittersweet nostalgia to love songs lush with metaphor, it's clear Van Horne doesn't stray from the rawness of letting his feelings guide his art." – Kalene McCort — Boulder Daily Camera
 "Pictures of preacher's daughters and river waters with powerful acoustic piano and guitar, climaxing to fully layered choral, orchestral massiveness worthy of cathedrals. " – Kevin Johnston — Bandwagon Magazine
"If there is such a thing as a modern-day "Colorado sound," Covenhoven embodies it " – Andrew Gulden — Americana Highways
Arthur James opens the evening.