When:
May 8, 2023 @ 7:00 pm
2023-05-08T19:00:00-07:00
2023-05-08T19:15:00-07:00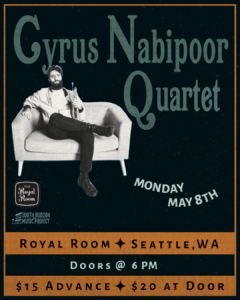 Doors: 6pm
Advance tickets can only be purchased online-we do not sell advance tickets at the venue. Refunds are not available within 48 hours of the event. Tickets do not guarantee seating during shows at the Royal Room. We are now accepting reservations for diners! Please email reservations@theroyalroomseattle.com for a table. The Royal Room is All Ages until 10pm. All our staff are fully vaccinated, and we ask that our patrons be vaccinated as well. 
Trumpeter and composer Cyrus Nabipoor is among the most unique storytellers on the scene today. His unmistakable voice resonates with honesty, warmth, and lyricism. Melody reigns as Nabipoor balances focused clarity with fearless exploration on the horn.
With his Quartet, Nabipoor combines his formidable compositional ability with sensitive yet daring arrangement. The result is a powerful instrumental & improvisational experience, which pulls just as much from pop & rock music as it does the jazz idiom.
Born and raised in Portland OR, Cyrus Nabipoor began playing trumpet at age 11. He wanted to play trombone, but it wouldn't fit on his bike. As an adolescent Cyrus was taught by Cynthia Plank and trumpeter Derek Sims. In high school he joined the Alan Jones Academy of Music. Cyrus holds a Bachelor of Music from Loyola University New Orleans, where he graduated magna cum laude and was awarded outstanding undergraduate in both Jazz and Brass. While at Loyola, he studied with Nick Volz, Tony Dagradi and Jimbo Walsh. Cyrus also spent a very formative term at the Grieg Academy in Bergen, Norway studying with ECM legend Per Jørgensen and Martin Winter (Bergen Philharmonic). In 2015, Cyrus was awarded the International Trumpet Guild Jazz Scholarship.
Cyrus is endorsed by Edward's Trumpets.
Cyrus Nabipoor – trumpet/composer
Jack Radsliff – guitar
Nick Morrison – bass
Micah Hummel – drums
"Nabipoor's strength is that it is never possible to anticipate his next move…The jazz equivalent of a first-year pitcher who throws 99 m.p.h….His trumpet chops are deadly and his penetrating brass tone is classically pure (except when he turns it dirty)."
"A bandleader and composer/arranger for whom no style or emotion is off limits."
   "A musician intent on blurring the future and past…'Live at the Marigny Opera House' is a finely paced, well crafted, quietly revealing debut with a keen sense of smoldering tradition and youthful investigation."
  "Nabipoor's compositions concern themselves less with fitting into one jazz idiom or another and more with a pure, almost ecstatic sense of in-the-moment expression"