When:
February 11, 2020 @ 8:15 pm
2020-02-11T20:15:00-08:00
2020-02-11T20:30:00-08:00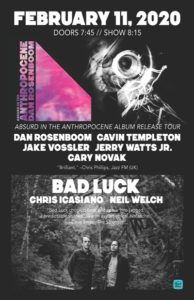 Doors at 7:45pm

To guarantee a good seat, please make your dinner reservation through our reservations page on our website.
Advance tickets can only be purchased online. We do not sell advance tickets at the venue. Refunds are not available within 48 hours of the event.
"A musician dedicated to exploration and expression, regardless of anyone's imagined boundaries."
–Chris Barton, Los Angeles Times
"A singularly creative voice whose unique aesthetic encompasses an array of idiosyncratic influences…a lyrical virtuoso with a commanding tone, whose expansive trumpet technique is saliently paralleled in his diverse writing…an artist on the rise."
— Troy Collins, All About Jazz
Absurd in the Anthropocene – out January 31, 2020 via Gearbox Records – is in line with Rosenboom's abstract musicianship and virtuous experimentalism but, naturally, pushes the envelope. The record's inspirations run the gamut from Miles Davis and Ornette Coleman to Frank Zappa, Soundgarden, and Squarepusher, and its title refers to the complicated and often surreal times in which we live.
"This album is about responding to our modern world in a way that is reflectively critical yet frenetically joyous," Rosenboom says. "Maelstrom and cognitive dissonance are everywhere, online and on the news. People cherry-pick what they want to believe and discount factual data. Inequity is rampant. In the face of such overwhelming chaos, turning toward our inner humanity is a powerful move. I want to take all that emotional fuel, and turn it into something creative, spontaneous, and beautiful."
Rosenboom, a musician at the forefront of Los Angeles' ever-thriving creative music scene, boasts an international reputation for boundary-pushing projects and relentless productivity. A trumpet virtuoso equally at home in improvised and classical music, the prolific musician has been featured on stages and festivals all over the world, and has been described as "a phenomenon" by the Los Angeles Times.
Absurd in the Anthropocene is loaded with an absurd crew of musicians, including producer and keyboard master Jeff Babko, legendary drummers Vinnie Colaiuta, Gary Novak, and Zach Danziger, renowned bassists Jimmy Johnson, Tim Lefebvre and Jerry Watts Jr., Rosenboom's longtime collaborator Gavin Templeton and jazz icon David Binney on saxophones, guitarists Tim Conley, Alexander Noice, and Jake Vossler, electronics wizard Troy Zeigler, and horn-playing colleagues Brian Walsh, Ryan Dragon, Juliane Gralle, and Javier Gonzalez. The record's first session was recorded at Capitol Records with prized engineer Steve Genewick, while the second and third took place at Stella Sound Studios under the direction of revered producer, engineer, and mixer Justin Stanley.
"When I'm playing music with my compatriots, the world feels right, at least for a moment," Rosenboom said. "It's about returning to 'the now.'"
Creating such an ambitious album sounds like a tall order for any musician. But given Rosenboom's uniquely learnèd upbringing, his impressive resume, and his balance of confidence and humility, it is a vision and sound that this maverick musician has boldly realized.
"What I'm trying to express is that through intelligent thought and spiritual inquiry, there is a way forward culturally that can result in a lot of joy."
BAD LUCK
Bad Luck performs in another cosmos from most bands. With more than a decade of collaboration, Neil Welch (saxophone + live electronics) and Christopher Icasiano (drums) "bear down on you like a cyclone of fire" (The Stranger). Based out of Seattle, Bad Luck is a genre-defying supernova of electronics, metal, folk and jazz.
Saxophone/electronics player Neil Welch and drummer Chris Icasiano spent years making epic long-form compositions (and three albums) in the tradition of free jazz legends like John Coltrane. Their new album, Four, recorded at Avast Studios with Randall Dunn (Sunn O))), Earth, Marissa Nadler) slams the epic energy of those free improvisations into shorter, rhythmic forms. Welch screams and breathes into his horn, acoustically creates chords, and uses electronics more familiar to guitar players. Icasiano does things that seem impossible with four drumsticks at once.
"Outside of music's commonly accepted beat exists an emancipated, implied meter, an empowered and truly free human expression." –CityArts
"…an avant garde jazz duo known for its near-omnipotence on the scene…" –Seattle Magazine
"Bad Luck chop up time and space into jagged, unpredictable shapes, but sometimes they hit upon a quasi-funk groove that sounds like an asymmetrical avalanche." –The Stranger
"…can sail to the stars with Albert Ayler-like abandon but also zero in on lyrical moments." –Seattle Times
Please note: Tickets do not guarantee seating during shows at the Royal Room. For sold out shows standing room may be the only available space. Please come early to ensure you get a table. Reservations can be made for those who are coming for dinner as well as the show. The Royal Room is All Ages until 10pm.