When:
May 5, 2022 @ 7:30 pm
2022-05-05T19:30:00-07:00
2022-05-05T19:45:00-07:00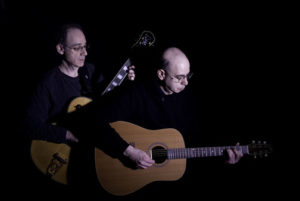 Doors: 6:30pm
Tickets: $15 advance, $20 doors
COVID PROTOCOLS: All our staff are fully vaccinated, and we ask that our patrons be vaccinated as well. Our staff will be masked, and we encourage our audience to wear masks as much as possible.
Advance tickets can only be purchased online-we do not sell advance tickets at the venue. Refunds are not available within 48 hours of the event. Tickets do not guarantee seating during shows at the Royal Room. Seating is currently first come first served. The Royal Room is All Ages until 10pm.
Guitarist brothers Tony and Peter Chotem play lush original jazz. With tantalizing hints of rock, folk, Latin, and blues, their mix of acoustic and electric guitars is cool and inviting.  In the style of Pat Metheny and Ralph Towner, they create a mood that is both ambient and evocative. Their arrangements sparkle with originality and their compositional style draws listeners in with its strong sense of melody.  As brothers, Tony and Peter Chotem have been playing guitar together for almost 30 years. Their original compositions and covers draw their listeners into an evocative imaginary world of musical ideas spanning several decades and fusing elements of diverse musical styles.
Tony and Peter Chotem have been performing as Double Helix since 2000. They have toured extensively throughout Canada, and are repeat performers at the Vancouver International Jazz Festival. They have performed at Canadian Music Week in Toronto and were nominated in the "best jazz" category at the Barrie New Music Festival. "Sigrid" from their full-length original jazz CD: Phoenix Rising, was recently featured in the PBS Roadtrip Nation program, "Ready To Rise",and the duo are currently completing a follow up album; ''In A Dream'' due for release in May 2022.
Joining the bill will be Reggie Garrett and the SnakeOil Peddlers, performing as a trio.
Reggie Garrett has performed throughout the US and Canada for many years presenting mostly original songs mixed with pop covers and traditional folk ballads.  His music is quite diverse tapping into urban acoustic Folk music, Gospel, Latin rhythms, Blues, Celtic and many other forms.  He performs both solo and with his group Reggie Garrett & the SnakeOil Peddlers.  Since its inception Reggie has carved out his own unique sound.  He has been compared to acoustic legends Richie Havens and Bill Withers by the national folk publication Dirty Linen. He doesn't consider himself to be a Bluesman – even so Living Blues  magazine featured him in an article in the August 2018 issue.
Mr. Garrett was trained and educated as an artist, receiving his Bachelor of Arts in Fine Arts from Williams College, and a Masters in Painting from SUNY Albany.  Since then he has spent time as a starving artist in New York City, worked as a Systems Engineer for IBM, worked in computer center planning and disaster recovery planning and taught English, History and Math at the high school level.  For a number of years he also taught in a college level program at that guided high school dropouts into and through college.  Through it all he has worked as a musician, as a bassist and vocalist in several rock bands, more recently as a vocalist and guitarist, both solo and with his own ensembles.  He has six CD releases to his credit and has had songs included in a number of compilations over the years.