When:
April 2, 2021 @ 7:30 pm
2021-04-02T19:30:00-07:00
2021-04-02T19:45:00-07:00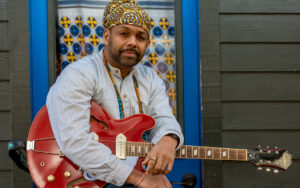 Each Friday evening our livestream concert series continues, airing directly from the Royal Room, Columbia City. Celebrating some of Seattle's most talented musicians, the series is free to air on the Earshot Jazz YouTube channel. Check earshot.org for details.
The extraordinary multi-instrumentalist, Benjamin Hunter joins us tonight in a solo performance. Adept as a violinist, mandolinist, vocalist, and songwriter, Hunter seamlessly brings together many musical traditions including jazz, blues, folk, West African and Caribbean. Hunter's keen interest in history and storytelling and his dedication to creating a more inclusive, vibrant, and compassionate community, informs and enriches his musical artistry.
Performed live on The Royal Room stage, following all Washington State Department of Health guidelines.