When:
April 10, 2021 @ 5:00 pm
2021-04-10T17:00:00-07:00
2021-04-10T17:15:00-07:00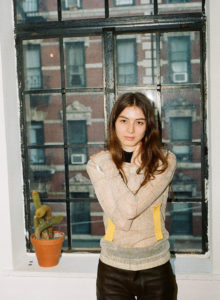 Eliana Glass (b.1997) is a singer, pianist and visual artist. Born in Australia and raised in Seattle, she began singing and playing piano from a young age. Currently based in New York, Eliana pursues her passions of music, visual art and writing, continuously gaining insight into each medium through the other. On Saturday, April 10 at 5 P.M. (PST), Eliana will present unheard and unreleased songs alongside her brother Costa. Her music dedicates special attention to sparseness and sensuality, inspired by the immaterial human voice, the environment and multiple women artists who have influenced her. This performance is free admission, but there will be a link to donate via The Royal Room YouTube Page. All donations will go to Wide Rainbow, a New York based non-profit which focuses on getting kids in low-income neighborhoods access to the arts. Please view via coparemote.com, or The Royal Room YouTube page.
Eliana – voice, piano, electronics
Costa Colachis Glass – guitar, synth, electronics
Photo by Jules Muir
You can stream the show at The Royal Room YouTube and on coparemote.com.
Performed live on The Royal Room stage, following all Washington State Department of Health guidelines.