When:
April 21, 2020 @ 7:30 pm
2020-04-21T19:30:00-07:00
2020-04-21T19:45:00-07:00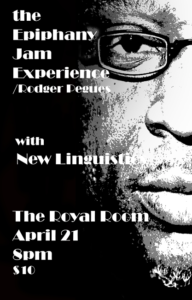 Doors at 6:30pm
At the performance of every artist, what you are seeing, what you are hearing, is more than is contained in that moment. You are hearing a life story. You are hearing thousands of hours of rehearsal, musings and experience. Understand, there is a moment in time when sound becomes music, and there are moments in music that are sublime…(almost magical).The music of Rodger Pegues, with sounds, with spoken words, with musical tones is in search of those sublime moments for in those moments a blissful suspension of time occurs wherein both the listener and the player experience an epiphany.
To guarantee a good seat, please make your dinner reservation through our reservations page on our website. 
Advance tickets can only be purchased online-we do not sell advance tickets at the venue. Refunds are not available within 48 hours of the event. Tickets do not guarantee seating during shows at the Royal Room. The Royal Room is All Ages until 10pm.