When:
May 4, 2022 @ 7:00 pm
2022-05-04T19:00:00-07:00
2022-05-04T19:15:00-07:00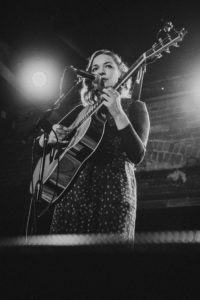 Doors: 5:30pm
Tickets: $10 advance, $15 doors
COVID PROTOCOLS: All our staff are fully vaccinated, and we ask that our patrons be vaccinated as well. Our staff will be masked, and we encourage our audience to wear masks as much as possible.
Advance tickets can only be purchased online-we do not sell advance tickets at the venue. Refunds are not available within 48 hours of the event. Tickets do not guarantee seating during shows at the Royal Room. Seating is currently first come first served. The Royal Room is All Ages until 10pm.
Hanna Haas is a songwriter drawn to the dance of light and dark. Currently based in Portland Oregon, she has come to call the entire West Coast her home. Hanna describes her music as "contemplative folk," identifying with artists Nick Drake, Joni Mitchell, and Feist for their alternate tunings and mesmerizing melodies. Inspired by environments in which she has inhabited, Hanna sings of the dramatic landscape of Big Sur, the California sun, and the vast and open Pacific Northwest sky. Hanna loves to engage her audiences in sweet story-telling and laughter, leaving her audience in a state of heart-felt introspection.
Hanna has played countless shows in Portland, OR and has become a part of the close knit community of West Coast artists. She has opened for artists such as John Craigie, Still Woozy, Juliana Barwick and others. Hanna has been working on her debut album "To Her, the Sea" and plans to release it in Spring 2022.
Ollella's career as a musician started early, when she sang before she could talk. She has since created a life as a multidisciplinary artist working as an indie-folk cellist, vocalist, and songwriter. Trained as a classical cellist since the age of nine, the Seattle-based musician blends her technical background with authoritative vocals, live-looping, and improvisation. Pulling on influences such as Florence + the Machine, Cat Power, and Zoë Keating, she blends the acoustic with the contemporary, folk with pop, and tenacity with softness. Her playing has been featured in films screened at Film Festivals such as Sundance and Aspen Film Fest; on recordings with others, including Grammy-winning artist Peter Kater; and has shared stages with popular Americana acts such as the Shook Twins and Rising Appalachia.