When:
January 11, 2020 @ 8:00 pm
2020-01-11T20:00:00-08:00
2020-01-11T20:15:00-08:00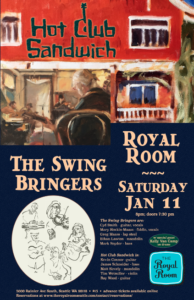 Doors at 7:30pm 
To guarantee a good seat, please make your dinner reservation through our reservations page on our website.
Advance tickets can only be purchased online. We do not sell advance tickets at the venue. Refunds are not available within 48 hours of the event.

The Swing Bringers are:
Cyd Smith – guitar, vocals
Mary Simkin-Maass – fiddle, vocals
Greg Maass – lap steel
Ethan Lawton – mandolin
Mark Snyder – bass
with special guest:
Kelly Van Camp – drums
Comprised of great vocalists and instrumentalists, The Swing Bringers unites several of the area's finest roots musicians in their shared love of classic country and western swing music from the 1920's to the present day. Expect to hear gems from Jimmie Rogers, Hank Williams, Roger Miller, Buck Owens, Merle Haggard, Bob Wills, George Jones and many more. Special guest Kelly Van Camp will play drums.
Hot Club Sandwich is:
Kevin Connor – guitar
James Schneider – bass
Matt Sircely – mandolin
Tim Wetmiller – violin
Ray Wood – guitar
No Pressure, the newest release by Hot Club Sandwich, is available on Acoustic Oasis: Listen here
"The open-minded group may serve up a blend of jazz, bolero, and folk, but feel just as comfortable following a Hoagy Carmichael song with a Peruvian waltz. They let the music be their guide as they adopt their own interpretation of Django Reinhardt and Stephane Grappelli's pursuit of honest, adventurous improvisation while embracing musical forms from around the world."
— Tara Joan, No Depression 2/11/18
"Swing grooves, lyrical interplay and string harmonies characterize Hot Club Sandwich's fifth album, 'No Pressure.' … Besides band members being stellar instrumentalists, several compose, arrange and sing too. Besides band members being stellar instrumentalists, several compose, arrange and sing too. This album has many highlights but certainly the two originals apiece from Kevin Connor, Matt Sircely and Ray Wood (with songwriting partner Vann Cantin) stand out."
— Joe Ross, Roots Music Report 3/15/18
"Hot Club Sandwich is a string band made up of some of the most consummate musicians in the Pacific Northwest. Its members take pride in their knowledge of the great jazz and orchestral movements that spread across nationwide, alongside their more local musical history."
— Jonathan Frahm, PopMatters 2/13/18
Please note: Tickets do not guarantee seating during shows at the Royal Room. For sold out shows standing room may be the only available space. Please come early to ensure you get a table. Reservations can be made for those who are coming for dinner as well as the show. The Royal Room is All Ages until 10pm.