When:
August 14, 2022 @ 3:00 pm
2022-08-14T15:00:00-07:00
2022-08-14T15:15:00-07:00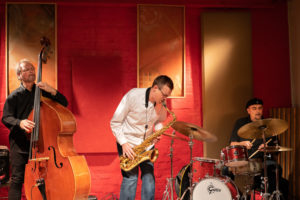 Doors: 2:30pm
COVID PROTOCOLS: All our staff are fully vaccinated, and we ask that our patrons be vaccinated as well. Our staff will be masked, and we encourage our audience to wear masks as much as possible.
Advance tickets can only be purchased online-we do not sell advance tickets at the venue. Refunds are not available within 48 hours of the event. Tickets do not guarantee seating during shows at the Royal Room. Seating is first come first served. The Royal Room is All Ages until 10pm.
The Jerry Steinhilber Trio tantalizes the senses with distinctive mash-ups that interweave the compositions of influential jazz masters that have long influenced the trio. By layering well-known ostinatos, licks, portions of original solos, or ensemble hits within the arrangements, sincere homage is paid to many jazz originators.
Excellent examples of this unique approach can be heard on the trio's Miles Davis Suite. Here, the bass begins with a solo leading into the well-known Davis tune "So What". The bass quotes Miles' own solo for several bars, then leads into a recognizable "Round Midnight" ensemble passage which ultimately lands on the Gil Evans tune, "Miles Ahead". From there, the suite fuses the 60's quintet tunes, "Joshua" and "Seven Steps to Heaven", while interweaving the bridge to "Milestones" in the melody, and then unleashing into a torrent of trio improvisation and propulsive trading with the drums.
Another example of the distinctive way the trio presents their music is their John Coltrane Suite. Bringing the audience along on the journey, the suite opens with the hauntingly beautiful, later-period Coltrane composition, "Welcome". The bass then brings the other musicians in with the well-known bass figure from Trane's, "Equinox", opening up solo space for the tenor saxophone. A modulation up a step and the trio lands on the joyful "Dear Lord", while maintaining the ostinato rhythm of the previous tune throughout. Tasteful brush work is featured on portions of the melody of "Satellite" stylized as a swinging intro that leads into a hard-blowing "Chasin' The Trane".