When:
June 15, 2022 @ 7:30 pm
2022-06-15T19:30:00-07:00
2022-06-15T19:45:00-07:00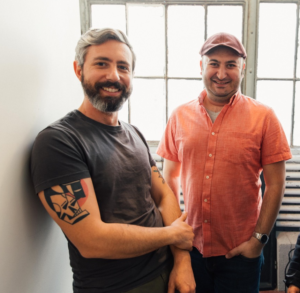 Doors: 6:30pm
Tickets: $15 advance, $20 doors
COVID PROTOCOLS: All our staff are fully vaccinated, and we ask that our patrons be vaccinated as well. Our staff will be masked, and we encourage our audience to wear masks as much as possible.
Advance tickets can only be purchased online-we do not sell advance tickets at the venue. Refunds are not available within 48 hours of the event. Tickets do not guarantee seating during shows at the Royal Room. Seating is first come first served. The Royal Room is All Ages until 10pm.
REDSHIFT TRIO
Trumpeter Josh Deutsch and guitarist Nico Soffiato have been playing together as a duo since 2006, when they met in Boston. Over the years, the musical relationship born through this collaboration resulted in a set of music composed specifically for this ensemble, including several co-written works. Josh and Nico have created a book of original music borrowing from some of their favorite classical, jazz and pop ideals. The music ranges from electronic loops to entirely acoustic pieces, balancing carefully crafted compositions with space for exciting improvisations and interaction.
Their third album Redshift, on the label nusica.org features two great drummers of the New York scene: Allison Miller and Dan Weiss. It's due to be released in January 2020 by the Italian label nusica.org They perform regularly in the New York City area and have toured the West Coast and Italy. The have also given master classes in music schools and universities in the US and Italy. http://nicosoffiato.com/josh-deutschnico-soffiato-duo
Grammy-winning trumpeter and composer Josh Deutsch is a unique voice on New York City's contemporary music scene, where he performs regularly as a leader and sideman. He is also known nationally and internationally through performances around the United States and in Europe, Canada, and Asia.
Deutsch plays regularly and has recorded with Argentinian singer/composer Sofia Rei, Grammy-winning Mexican singer Lila Downs, the Grammy-winning Dafnis Prieto Big Band, Pedro Giraudo's Expansions Big Band, Venezuelan guitarist/singer Juancho Herrera, Hungarian singer Nikolett Pankovits, Israeli singer/pianist Noa Fort, Australian soul/funk band The Hipstones, and Colombian folkloric band Grupo Rebolu. He has performed with Darcy James Argue's Secret Society and the Duke Ellington Big Band directed by Victor Goines.
He has presented his own projects at Dave Douglas's Festival of New Trumpet Music, as well as at the Earshot Jazz Festival in Seattle and the Outpost Summer Music Festival in Albuquerque and appeared at such leading venues in the U.S. as Carnegie Hall, The Jazz Standard, Birdland, Dizzy's Club Coca Cola, The Blue Note, The Jazz Gallery and The Stone in New York City and SF Jazz and Yoshi's in California.
Nico Soffiato is an Italian guitarist, composer and educator.  After graduating from Berklee College of Music in 2007, he made his home in Brooklyn. A versatile player, Nico finds himself playing in various jazz and experimental groups such as his duo with Grammy-winning trumpet player Josh Deutsch, Paradigm Refrain with Anti Label recording artist Marco Buccelli, and Dogwood. As a member of the New York music scene for over a decade, Nico has been part of the collective Out Of your Head Brooklyn, whose members included Gerald Cleaver, Michael Attias, Tony Malaby, Kirk Knuffke, and many others. He also plays in Innocent When You Dream, Aaron Schragge's ensemble that reimagines the music of Tom Waits.
He had played nationally and internationally, presenting his music at renowned festivals like Dave Douglas's FONT Festival, Sile Jazz Festival, Padova Jazz Festival and more.
Nico is also music for media composer and producer.  He's a staff composer for the international music house Overcoast and has worked on movies and commercials.