When:
July 30, 2022 @ 8:00 pm
2022-07-30T20:00:00-07:00
2022-07-30T20:15:00-07:00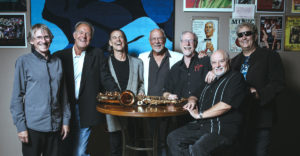 Doors: 7pm
COVID PROTOCOLS: All our staff are fully vaccinated, and we ask that our patrons be vaccinated as well. Our staff will be masked, and we encourage our audience to wear masks as much as possible.
Advance tickets can only be purchased online-we do not sell advance tickets at the venue. Refunds are not available within 48 hours of the event. Tickets do not guarantee seating during shows at the Royal Room. Seating is first come first served. The Royal Room is All Ages until 10pm.
This summer, 2022, Jr. Cadillac celebrates their 52nd year of rocking the Northwest and the world! Beginning in 1970, Jr. Cadillac virtually created the vibrant, musically fertile and socially wild Seattle tavern scene that ran through the 70's, 80's and into the 90', packing clubs like the Rainbow, the G Note, Parker's Ballroom, the Pipeline, the AdLib, and many, many others throughout the Northwest and on down the West Coast. With original members from the Wailers, the Frantics, the Mark 5, and the Dynamics, Jr. Cadillac continued and still continues in the direct lineage and vital musical energy of Northwest Rock & Roll.
Over the years the band has played big concerts with the greats of rock 'n roll, backing Chuck Berry and Bo Diddley on numerous occasions, sharing the bill with The Beach Boys, Fleetwood Mac, The Kinks, ELO, and many more. They were Seattle's musical ambassadors to the Soviet Union in 1989, bringing Northwest Rock & Roll to an avid Moscow audience, and broadcasting a live show from Tashkent Uzbekistan, bounced off a satellite and onto KXRX radio in Seattle.
The band has done and continues to do many festivals and concert series, and each August sells out its annual birthday party at the Triple Door, one of Seattle's top live music nightclubs. The music of Jr. Cadillac draws large and mixed crowds, from fans of 50 years to new fans every year. The band has recorded many albums and singles, released over the years, many of them now available online. Check out Jr. Cadillac's YouTube videos for the current experience, because, while the history is one thing… the present for Jr. Cadillac is that the band is rocking hotter than ever.