When:
November 25, 2020 @ 7:30 pm
2020-11-25T19:30:00-08:00
2020-11-25T19:45:00-08:00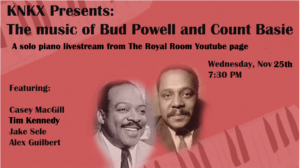 This Live Stream is broadcast direct from the Royal Room stage in Columbia City, Seattle and presented by KNKX Public Radio.
The first stop for pianists seeking an education in bebop is Bud Powell. Similarly, Count Basie is the most crystallized voice in the style that came previously-swing. We'll close out the season by celebrating these paradigms. The Piano Starts Here series highlights the work of some of the most prolific and talented composers and pianists to have ever tackled the instrument. Each of the performances brings together Seattle's finest pianists to perform the works of the artist selected for that evening on the Royal Room's Steinway B grand piano.
Featuring:
Tim Kennedy
Casey MacGill
Jake Sele
Alex Guilbert
This event will be pre-recorded. View on The Royal Room YouTube page
The site will have a link to donate to the artists.