When:
April 21, 2021 @ 7:30 pm
2021-04-21T19:30:00-07:00
2021-04-21T19:45:00-07:00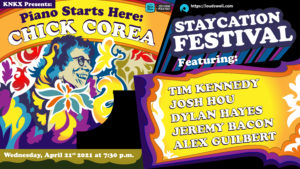 The Piano Starts Here series highlights the work of some of the most prolific and talented composers and pianists to have ever tackled the instrument. Each of the performances brings together Seattle's finest pianists to perform the works of the artist selected for that evening on the Royal Room's Steinway B grand piano.
February marked the loss of Chick Corea, who turned the jazz world upside down when he burst onto the scene in the sixties, and continued to do so for a long and wide-reaching career. From working as a sideman with Miles Davis, to free jazz innovation with Anthony Braxton and others, to electric fusion ranging from popular to esoteric, even to trading Mozart riffs with Keith Jarrett, Chick pretty much did everything a jazz pianist could, while always retaining his infectiously driving and vitalizing voice. Join us as we pay homage to one of the all-time greats!
Alex Guilbert, host of the Piano Starts Here series, has been playing and composing music professionally as part of the Seattle scene for more than 20 years. Although he's got a firm grounding in the jazz tradition, he's been a side man and leader in ensembles of many different styles. From traditional jazz and rock to electronica and classical, Alex's appreciation for a range of musical genres continues to inform and inspire his work.
Tim Kennedy
Josh Hou
Dylan Hayes
Jeremy Bacon
Alex Guilbert
Join us for our recurring series titled 'Staycation Festival', a series of streaming events at the Royal Room, co-hosted by Loudswell.
You can stream the show at Loudswell.com, and on The Royal Room Facebook page.
Both sites will have a link to donate to the artists.
Performed live on The Royal Room stage, following all Washington State Department of Health guidelines.