When:
May 24, 2020 @ 8:00 pm
2020-05-24T20:00:00-07:00
2020-05-24T20:15:00-07:00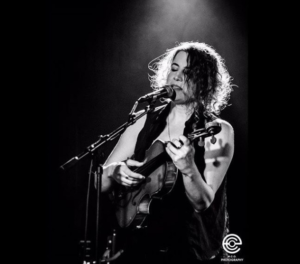 Join us this Sunday for the first live streaming event from the Royal Room since the COVID shutdown! Alex Guy (of Led to Sea) will perform a solo set of original songs and compositions and a few choice covers, kicking off the Staycation Festival, a summer-long series of streaming events at the Royal Room, co-hosted by Live Concerts Stream.
You can stream the show at LiveConcertsStream.com, and on the Royal Room Facebook page!
Sunday, May 24th
Led to Sea solo
7pm-8pm
Royal Room page: facebook.com/royalroomseattle/
Live Concerts Stream: liveconcertsstream.com/
Both sites will have a link to donate to the artist 🙂
Led to Sea
Violinist, Violist, Composer and Songwriter Alex Guy is the leader and principal songwriter for Led To Sea, a magnetic chamber-pop trio that fuses classical, pop and experimental music. Her live show has captivated audiences all over the U.S. and Europe, and draws comparisons to St. Vincent and Andrew Byrd. As a musician Alex, has performed and collaborated with a virtual whose who of bandleaders, composers, improvisers and jazz musicians in the Pacific NW and beyond, including Angel Olsen,Thao and the Get Down Stay Down, Jherek Bischoff, Laura Veirs, Ahamefule Olou, Sera Cahoone, Lemolo, Tucker Martine, Wayne Horvitz, Mirah, Amanda Palmer, Xiu Xiu, and many more.
Press for Led to Sea:
"Led to Sea blew the audience away…You could identify people in the audience who had not seen her perform before because they were picking their lower jaws up off their tables. The performance was nothing short of enigmatic. The layered viola melodies coupled with an incredible voice was enough to hypnotize me for the duration of her set." — Bellingham Herald