When:
August 28, 2022 @ 7:00 pm
2022-08-28T19:00:00-07:00
2022-08-28T19:15:00-07:00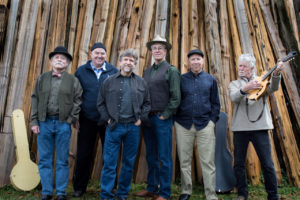 Doors: 6pm
Tickets: $22 advance, $25 doors
COVID PROTOCOLS: All our staff are fully vaccinated, and we ask that our patrons be vaccinated as well. Our staff will be masked, and we encourage our audience to wear masks as much as possible.
Advance tickets can only be purchased online-we do not sell advance tickets at the venue. Refunds are not available within 48 hours of the event. Tickets do not guarantee seating during shows at the Royal Room. Seating is first come first served. The Royal Room is All Ages until 10pm.
"If there is a group who can push forward the ageless Americana blueprint of The Band, it might just be Marley's Ghost." — Something Else!
As most people will tell you, there's an undeniable connection between versatility and variation. Suffice it to say that each depends on the other. In the case of West Coast-based Marley's Ghost, that eclectic energy has resulted in a broad repertoire that has defied any ability to tag them to any one particular genre. Their dozen albums to date — like the output of The Band — survey a broad scope of Americana and acoustic music in general, refusing to confine them to any singular niche.
Or, as the L.A. Weekly aptly put it, "This West Coast group deftly dashes across decades of American music to create a sound that's steeped in tradition but never bogged down by traditionalism."
Composed of singer/multi-instrumentalists Wheetman, Jon Wilcox, Mike Phelan, Ed Littlefield Jr., Jerry Fletcher, and Bob Nichols, the band can sing and play anything with spot-on feel, from roots to rock, blues to bluegrass, gospel to stone country, which is what they've been doing – to the ongoing delight of a fervent cult that includes many of their fellow musicians – for over 35 years as a working unit. More than three decades from that initial spark, they're still playing together with the same passion, purpose and chemistry that inspired them early on.
"It is, and always has been, about the music," bassist, fiddler, guitarist, singer and chief songwriter Dan Wheetman insists. "That's what's kept this band going for so long. It's always been about digging a little deeper, honing our skills and celebrating the entire playing process. That drives us forward."
"The vocals will blow you away with their purity. The group sings with the heartfelt conviction that only those who embody music's spirituality can convey." – Relix
"Remarkable, distinctive voices, giddily eccentric eclecticism, a heady subversive treat." – No Depression
"The real draw is the band itself, showcasing the kind of ensemble performances that come only from a lifetime of playing together, thriving across the decades as virtuosic, unsung heroes of country, folk, and Western swing." – Acoustic Guitar