When:
January 19, 2023 @ 7:30 pm
2023-01-19T19:30:00-08:00
2023-01-19T19:45:00-08:00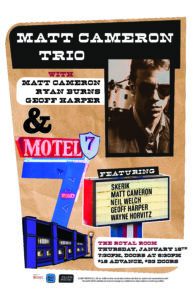 SOLD OUT
A limited number of tickets will be available at the door at showtime for STANDING ROOM ONLY
Doors: 6:30pm
Tickets: $15 advance, $20 doors
COVID PROTOCOLS: All our staff are fully vaccinated, and we ask that our patrons be vaccinated as well. Our staff will be masked, and we encourage our audience to wear masks as much as possible.
Advance tickets can only be purchased online-we do not sell advance tickets at the venue. Refunds are not available within 48 hours of the event. Tickets do not guarantee seating during shows at the Royal Room. We are now accepting reservations for diners! Please email reservations@theroyalroomseattle.com for a table. The Royal Room is All Ages until 10pm.
The Royal Room in Columbia City has a historic lineage that dates back to the OK Hotel and the beginnings of the grunge movement in Seattle. Along the way, the nightspot has gained a reputation as a community-based club with an open mind to musical form. Jazz has always figured into the sum of those ambitions, directed largely in part to the club's fearless leader—the always adventurous pianist/composer Wayne Horvitz.
Drummer Matt Cameronis a major cog in the evolution of rock music in Seattle and the world, as a member of both Soundgarden and Pearl Jam. He grew up with jazz awareness, listening to drummers such as Buddy Rich. His ambition to play jazz has never quieted, throughout years of mammoth success, touring the world and recording with two rock behemoths. That love and respect for jazz music will come full circle at The Royal Room, with Cameron performing with his own trio and in the collective ensemble, Motel 7.
Cameron first debuted his jazz trio at the 2004 Ballard Jazz Festival as part of the opening night "Celebration of the Drum" concert at the Tractor Tavern. Drummer and Soundgarden drum tech Gregg Keplinger recommended keyboardist Ryan Burns and bassist Geoff Harper for the gig. "Matt Jorgensen told me to be prepared because Matt Cameron is going to call you. I asked him who that was," recalls Burns. The festival is hosted by Jorgensen and John Bishop, two of the finest jazz drummers in the Pacific Northwest.
The trio, performing originals and standards, played the Bonnaroo festival under the name Harrybu McCage at one point, an event in Tennessee that drew over 80,000 fans. A recording followed in 2008, with the trio's last performance coming in 2010 at Bison Creek Pizza & Pub in Burien. The set was a benefit for the music programs in Burien schools. For his part as a drummer, Cameron is unafraid to explore the tenets of jazz drumming in the only way possible—on the bandstand. In many ways, it is emblematic of how the musical currents of this city tend to inevitably cross paths. The "Seattle Sound" is formed by these divergent streams.
Over the course of the pandemic, the trio members kept in touch via email, and with the return of live music, Harper recommended the pairing with Motel 7. The double bill finds Cameron and Harper playing both sets, with intrepid saxophonist Skerik, joining Motel 7 along with Horvitz and clarinetist/vocalist Beth Fleenor. The trio, with Burns manning electronic keyboards and piano, remains intact.
There is a great deal of familiarity within the ranks of Motel 7, mainly from projects involving Horvitz. Cameron steps into a collective that can move the music directionally in an instant, adding to the fun. The band is undeniably a group of uniquely individual musical personalities collaging as one without fear.
Not unlike the evening's performers, this gig should attract an audience that reflects different strands of the music community in Seattle. As is well known, it's "all about the hang," and this should be a good one.
By Paul Rauch
Motel 7 first emerged from Matt Cameron of Soundgarden (and now Pearl Jam) performing as a special guest with Wayne Horvitz and Pigpen at the OK Hotel in the early 90's.
They first appeared as Motel 7 at the Frankfurt Jazz Festival with Briggan Krauss, Skerik, Fred Chalenor, and Eyvind Kang
Since 2000 Horvitz and Cameron have made it a point to get together from time to time, and Motel 7 has included a variety of musicians including Mike Stone, Timothy Young, and Alex Guy. The music leans heavily on compositions from Horvitz' 90s bands including Pigpen, and The President. Expect heavy riffs and sonic explosions.