When:
April 11, 2020 @ 8:00 pm
2020-04-11T20:00:00-07:00
2020-04-11T20:15:00-07:00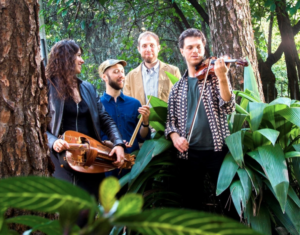 Doors at 8:00pm

Led by violinist Jake Shulman-Ment, Midwood is a psychedelic klezmer celebration of freedom and the Jewish tradition of wandering and migration. This new supergroup, featuring some of New York City's most exciting young performers on the international world music stage, seamlessly traverses borders through original compositions, expansive improvisations on traditional melodies, and heart-wrenching re-imaginings of Yiddish folk songs. Their debut album on Chant Records, Out of the Narrows, draws from deep Eastern European Jewish roots to explore the power of love, movement, and wilderness to transform the human mind and heart.
Jake Shulman-Ment – violin (Daniel Kahn, Frank London, Di Naye Kapelye)
Yoshie Fruchter – guitar (John Zorn, Zion 80, Pitom)
Richie Barshay – drums (Herbie Hancock, The Klezmatics, Esperanza Spalding)
Eleonore Weill – vocals, hurdy gurdy, flutes (Tsibele)
Midwood's Seattle show of the tour will be supported by the Yiddishist folkpunk trio, Brivele, and Seattle's cabaret punk klezmer outfit, The Debaucherauntes.
To guarantee a good seat, please make your dinner reservation through our reservations page on our website. 
Advance tickets can only be purchased online-we do not sell advance tickets at the venue. Refunds are not available within 48 hours of the event. Tickets do not guarantee seating during shows at the Royal Room. The Royal Room is All Ages until 10pm.