When:
April 11, 2021 @ 7:30 pm
2021-04-11T19:30:00-07:00
2021-04-11T19:45:00-07:00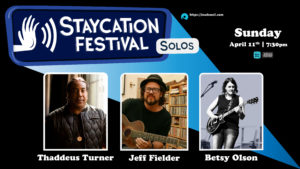 Join us on Sunday evenings for the 2021 South Hudson Music Project Staycation Festival, featuring live solo and duo performances by Seattle based musicians and improvisers. On April 11th, hear solo sets from Betsy Olson, Jeff Fielder and Thaddeus Turner. This performance will be streamed at loudswell.com
Betsy Olson is a blues guitarist and vocalist originally from Montana but currently based in Seattle. From the early blues legacies to Jimi Hendrix, Olson imbues her own modern take, owning her own Lonely Woman Blues. Her all-women, blues and rock band, The Betsy Olson Band, reminds listeners that women were the first people to record the blues and is evocative of its early revolutionaries. Olson has been featured on recordings with Sera Cahoone, Moe Provencher, Rebecca Young among others.
"This Seattle guitarist/vocalist debuts with a promising album of gritty, stripped-down blues-rock reminiscent of the Black Keys, though she stretches out with some haunting atmospheric ballads and a couple of straight-up rockers. While she just performs live as a two-piece with Sera Cahoone on drums, she fleshes out her sound a bit more with bass and keyboards. Still, the focus is on Olson's primal guitar riffs and Cahoone's equally ferocious drumming." -Don Yates (Seattle's KEXP 90.3)
Jeff Fielder is one of Seattle most in demand guitarists. He has been working as a professional musician for over 25 years, and more recently as a producer and film scorer. Fielder has performed with such people as Dave Abbruzzese of Pearl Jam, Star Anna, Sera Cahoone, Duff McKagan and Mark Lanegan among others. He has opened for Nick Cave, co-produced for Amy Ray of the Indigo Girls and toured internationally as side man and leader of various bands. Highly regarded for his exceptional guitar work, Fielder brings a formidable approach to every musical context.
Local hero Thaddeus Turner is a mainstay on the Seattle music scene. He has toured with Shabazz Palace, Thaddillac, Maktub and the Grammy Award-winning band Diggable Planets among others. Turner has performed with such people as Lauryn Hill, Dave Matthews, India Arie and Stone Gossard. He combines traditional soul with rock, techno and talk box stylings. When he's not touring, he can be found at the Sea Monster Lounge or directing Totem Star, a youth mentorship program he co-founded in 2010. Stripped down from his usual full-band context, hear Turner in an austere yet resounding set of solo guitar.
"As lead guitarist for the Seattle heavy soul band Maktub, Thaddeus has received glowing praise from Rolling Stone magazine, National Public Radio and The Seattle Times" – Dara Quinn
Join us for our recurring series titled 'Staycation Festival', a series of streaming events at the Royal Room, co-hosted by Loudswell.
You can stream the show at Loudswell.com, and on The Royal Room Facebook page.
Both sites will have a link to donate to the artists.
Performed live on The Royal Room stage, following all Washington State Department of Health guidelines.