When:
October 19, 2022 @ 7:30 pm
2022-10-19T19:30:00-07:00
2022-10-19T19:45:00-07:00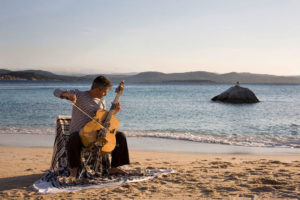 Doors: 6:30pm
Tickets: $20 advance, $25 doors
COVID PROTOCOLS: All our staff are fully vaccinated, and we ask that our patrons be vaccinated as well. Our staff will be masked, and we encourage our audience to wear masks as much as possible.
Advance tickets can only be purchased online-we do not sell advance tickets at the venue. Refunds are not available within 48 hours of the event. Tickets do not guarantee seating during shows at the Royal Room. Seating is first come first served. The Royal Room is All Ages until 10pm.
Whatever you want to call it, nobody else is doing it quite like this. Paolo Angeli, the Sardinian sorcerer, manually magics beautiful, multi-layered music from his unique prepared guitar: a hybrid orchestra of an instrument with strings going in all directions, foot-pedal-controlled motorised propellers and hammers to create shimmering drones and bass-lines as he bows, strikes, plucks and strums while producing rhythmic atmospherics by treading on a plastic bag and adjusting tunings on the fly. Electronic effects are utilized but no loops. All is live. With this singular instrument he improvises and composes unclassifiable music, suspended between traditional music of Sardinia, jazz, baroque, post-folk and pre-everything else. Paolo did a sold out concert at Carnegie Hall (New York) and has  collaborated with Pat Metheny – for whom he built a guitar – Fred Frith, Hamid Drake, Louis Sclavis, etc.
Paolo Angeli's latest discographical synthesis comes a year after his critically-acclaimed album Jar'a. If the latter was a contemplation inside the most ancestral Sardinia, with Rade, the Sardinian musician changes course, openly confronting the Mediterranean in a navigation that takes us to the mixed race atmosphere of Mare Nostrum 's ports.The concept album sums up Paolo's twenty-five years of life with his orchestra-guitar, pushed to the limit of its tonal and expressive potential. Paolo's voice, however, is what weaves the narrative here. Nasal and with a Sardinian-Spanish flavor, relying on quatrains from 1700s and 1800s Sardinian poets from the regions of Gallura and Logudoro. The music in Rade emerges as a wreck stocked with memories, wrapped by a blinding light. The sea swell is a silver surface, the Sardinian singing blends and merges with sounds that evoke a secular prayer. The compositions come from utopic crossroads, dreamlike landscapes, sketched with a fountain pen, places sheltered from the storm's fury, that recall illusions and mirage. The sea is magma that unites the latitudes of lands above sea level, music islands hanging between popular and contemporary, Balkan pulsations, middle-eastern arches, North African desert adagios, Rebetiko citations and memories of historical avant-gardes, flamenco reminiscences, dissonant phrasing, epic art-rock crescendo and patches of lyricism. Rade is aged must from the last century, that somebody forgot in a ship's galley, leaving tannin marks on glasses, sinking into memories of ethereal visions, stiffened by the sea salt.  The light of the Mediterranean Sea radiates into our houses with all the might of a Mediterranean avant-garde, passed on orally by a joyful Charon that imagines a sea that knows no boundaries, speaks a thousand languages for a brief moment and then throws them away.
"… and timeless striped sweaters, once again renewing the ritual of listening to a record, the need for joy…"