When:
May 9, 2022 @ 6:30 pm
2022-05-09T18:30:00-07:00
2022-05-09T18:45:00-07:00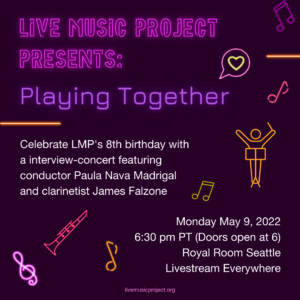 Doors: 6pm
Tickets: $15-50
COVID PROTOCOLS: All our staff are fully vaccinated, and we ask that our patrons be vaccinated as well. Our staff will be masked, and we encourage our audience to wear masks as much as possible.
Advance tickets can only be purchased online-we do not sell advance tickets at the venue. Refunds are not available within 48 hours of the event. Tickets do not guarantee seating during shows at the Royal Room. Seating is first come first served. The Royal Room is All Ages until 10pm.
From two to thousands, ensembles in music are groups of musicians who play together. Lots of incredible musical moments come about because we take risks, trust each other, and even have a good laugh from time to time. Being enveloped by the sound, whether feeling it with our bodies or hearing it with our ears, is pure exhilaration. When we're really playing together there's a chemistry, an empathy, perhaps even a sense of telepathy. Please join us for a deep dive into the joys of playing together as the Live Music Project celebrates its 8th birthday featuring a delightful interview with conductor Paula Nava Madrigal of Orquesta Northwest, a mesmerizing clarinet performance by James Falzone, fun activities in support of LMP's mission, and the most adorable cupcake toast this side of the Cascades. We are thrilled to be returning to the Royal Room for both an in-person and livestream bday party this year!
The event opens with featured guest Paula Nava Madrigal, who started her career as a conductor in the Autonomous University in Guadalajara, Mexico. She is artistic director of Orquesta Northwest, conductor of the Ballard Civic Orchestra, and a Seattle Opera conductor in their Creation Lab. She is a radio host and serves in the Seattle Music Commission. She and her projects have received several music awards, including awards from the National Endowment for the Arts, National Association of Latino Arts and Cultures, the Seattle City Artist award, and the Opera America Conductor's Award 2022 for her premiere in the Opera Frida, in San Jose California, with Opera Cultyra. In an interview-style talk with LMP executive director Megan Ihnen, Paula will talk about the power of coming together and playing together in an ensemble.
Describing the work of a modern musician can be a complex business. For an artist like James Falzone, genres and categories are porous. In short, James is a clarinetist, penny whistle player, composer, improviser, and educator who works at the intersection of jazz, classical and world music traditions. But the story is so much more interesting than that, as they often are. For the LMP 8th Birthday Gala, James will delight listeners with his clarinet performance.
There will be fundraising activities throughout the event, and we're excited to debut a fabulous new Dots campaign.
We hope you'll join us for a super celebration of 8 amazing years and many more to come.
Here's a rough schedule of events for the evening (all times Pacific):
6:00pm – Doors (tune in and say hi!)
6:45pm – Welcome from director Megan Ihnen
6:50pm – Interview: "Playing Together" + Q&A (Paula Nava Madrigal)
7:20pm – Intermission
7:35pm – Performance: James Falzone, clarinet
8:05pm – Fundraising update, cupcake toast
8:25pm – Farewell
Proceeds benefit the Live Music Project, a Seattle-based organization dedicated to increasing access to the arts. 
—
About our featured guests:
PAULA MADRIGAL
Paula Madrigal was born in Guadalajara, Mexico, where she studied and worked until coming to Seattle in 2014. She is passionate about classical music. As a cellist, teaching artist, professional musician, and orchestra conductor, she has created and participated in numerous projects, providing classical music experiences, mostly free of charge, to promote inclusion and intercultural understanding. After arriving in Seattle, she received a Youth Arts grant from the Office of Arts & Culture to launch the World Youth Orchestra program for underserved immigrant and refugee youth. In 2015, Ms. Madrigal co-founded the Ballard Civic Orchestra whose programs celebrate Latino cultural heritage. Pursuing her career goals as a conductor, she has received awards from Seattle's Univision and Latino Community Fund. Most recently, she co-founded the annual Cascade Conducting Master Class featuring Artistic Director Sarah Ioannides of Symphony Tacoma. Paula is currently the music director and conductor of Orquesta Northwest. In 2020, she was nominated to the Mayor Artist Award of Seattle. Find out more when you visit www.paulamadrigal.com.
JAMES FALZONE
Clarinetist, penny whistle player, composer, and improviser James Falzone is an acclaimed member of the international jazz and creative music scenes, a veteran contemporary music lecturer and clinician, and an award-winning composer who has been commissioned by chamber ensembles, dance companies, choirs, and symphony orchestras around the globe. He leads his own ensembles Allos Musica, Elaía Ensemble, Renga Ensemble, and the duo Wayfaring with Chicago bassist/vocalist Katie Ernst, and is a member of the Tapestry Voice Ensemble and Pneuma, a quartet with clarinetists François Houle, Michael Winograd, and Israeli vocalist Ayelet Gottlieb. James has released a series of critically acclaimed recordings on Allos Documents, the label he founded in 2000, and appears on numerous recording labels including Delmark, Songlines, and Rounder. James performs throughout North America and Europe, appears regularly on Downbeat  magazine's Critics' and Readers' Polls, and was nominated as the Clarinetist of the Year by the Jazz Journalist Association. He has been profiled in the New York Times, The Chicago Tribune, New Music Box, and Point of Departure, among many other publications. Educated at Northern Illinois University and New England Conservatory, James is also a respected educator and scholar and has been on the faculty of The School of the Art Institute of Chicago, Deep Springs College, North Central College, Columbia College Chicago, and was a fellow at The Center for Black Music Research. His scholarship on improvisation has been presented at numerous academic conferences and to diverse audiences including admirals at the US Naval War College and executives at Google's creative retreats. At present, James is the Chair of Music at Cornish College of the Arts in Seattle, Washington where he continues the groundbreaking work of that institution's legacy of experimentation and progressive music education, started by John Cage in the mid 20th century. James is a Backun clarinet artist and plays penny whistles made by Chris Abell. Learn more about James Falzone and his work at his website: www.allosmusica.org