When:
November 8, 2020 @ 7:30 pm
2020-11-08T19:30:00-08:00
2020-11-08T19:45:00-08:00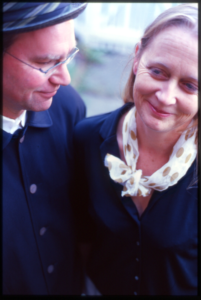 Pianists and Composers Robin Holcomb and Wayne Horvitz present an evening of improvised and composed music for solo piano, and piano with voice. Robin and Holcomb and Wayne Horvitz have been making music together since they first met in 1975 at the University of California in Santa Cruz, California. Before moving to seattle in the 90s, they two worked together for over a decade in New York within the so-called Downtown Scene collaborating with musicians including Bill Frisell, Butch Morris, Doug Wieselman, John Zorn, Bobby Previte, Willam Parker and many others. This evening will be a rare opportunity to hear the longtime musical and life partners perform together. Horvitz and Holcomb will each perform solo. In addition, they will present songs by Robin Holcomb, and a few covers, with Horvitz on piano and Holcomb singing.
A 2016 Doris Duke Performing Artist Award, composer and pianist, Wayne Horvitz' work ranges from the recent premiere of a concerto for the Seattle Symphony featuring guitarist Bill Frisell. to his long association with a myriad of artists including Butch Morris, Gus Van Sant, John Zorn, Robin Holcomb, Reggie Watts etc.
Robin Holcomb has created a "new American regionalism, spun from many threads – rock, minimalism, Civil War songs, Appalachian folk tunes, even the polytonal music of Charles Ives" (NY Times). She performs internationally, creates vocal and instrumental music for ensembles of all sizes, film, dance and theater. Her music can be heard on Nonesuch, Tzadik, Songlines and New World recordings.
"Wayne Horvitz and Robin Holcomb – the legendary husband-and-wife team that has had such an impact on extemporaneous music since the early '80s" – Carl Lumma, Keyboard Magazine
Join us for our recurring series titled 'Staycation Festival', a series of streaming events at the Royal Room, co-hosted by Live Concerts Stream.
You can stream the show at LiveConcertsStream.com, and on The Royal Room Facebook page.
Both sites will have a link to donate to the artist.
Performed live on The Royal Room stage, following all Washington State Department of Health guidelines.