When:
March 26, 2022 @ 1:00 pm
2022-03-26T13:00:00-07:00
2022-03-26T13:15:00-07:00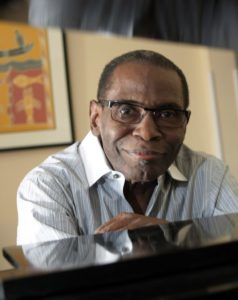 Doors: 12:30pm
Tickets: $20 advance, $25 doors
COVID PROTOCOLS: All events will require proof of vaccination to enter the venue, masks worn unless actively consuming food or drink, and we will be closely monitoring guidelines and recommendations to make sure we are doing everything we can to protect our community.
Advance tickets can only be purchased online-we do not sell advance tickets at the venue. Refunds are not available within 48 hours of the event. Tickets do not guarantee seating during shows at the Royal Room. Seating is currently first come first served. The Royal Room is All Ages until 10pm.
Seattle Jazz Fellowship presents George Cables Trio with Jerome Jennings (drums) and Chuck Deardorf (bass). Opening set by The Fellowship 'Ceptet, an ongoing mentorship program of Seattle Jazz Fellowship. Made possible by a gift from Bob and Sue Frause.
Equally skilled as a leader or as a sideman, George Cables helped to define modern mainstream jazz piano of the 1980s and '90s. When he was 18 and at Mannes College, he formed the Jazz Samaritans with Steve Grossman and Billy Cobham. Cables gained recognition during his stints with Art Blakey's Jazz Messengers, Sonny Rollins (both in 1969), Joe Henderson (1969-1971), and Freddie Hubbard (1971-1976). He was with Dexter Gordon (1976-1978) during the tenor's successful return to the United States, and became known as Art Pepper's favorite pianist (1979-1982). In addition to his occasional work with Bebop and Beyond (starting in 1984), Cables appeared in a countless number of situations through the years, and has recorded frequently as a leader, most notably for Contemporary (including the 1979 classic Cables Vision), Concord, and SteepleChase.
Personnel for The Fellowship 'Ceptet includes: Marc Seales, Grace Kaste, John Bishop, Beserat Tafesse, Thomas Marriott, Mark Taylor, Jackson Cotungo