When:
November 19, 2022 @ 4:30 pm
2022-11-19T16:30:00-08:00
2022-11-19T16:45:00-08:00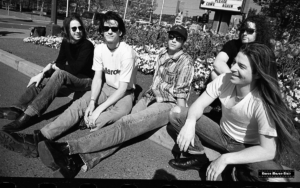 Doors: 4pm
Tickets: $15 advance, $20 doors
COVID PROTOCOLS: All our staff are fully vaccinated, and we ask that our patrons be vaccinated as well. Our staff will be masked, and we encourage our audience to wear masks as much as possible.
Advance tickets can only be purchased online-we do not sell advance tickets at the venue. Refunds are not available within 48 hours of the event. Tickets do not guarantee seating during shows at the Royal Room. Seating is first come first served. The Royal Room is All Ages until 10pm.
Join us for a wonderful night of music in support of the Service Board, a youth-led organization that builds community to advocate for a more just future. Featuring:
GIVE- a Seattle rock band from the 90's reuniting for their 2nd show to support this great cause!  GIVE is William Mueller, Marty Meisner, Michael Foster, Chris Friel and Rick Friel. All incredibly talented musicians who are giving of their time and talents to make this a great night.
Kim Virant- If you were a rock fan in Seattle in the early nineties you were a fan of Kim Virant and her band Lazy Susan. With their Stonesy double guitar stomp, Lazy Susan ruled the club scene. After a major record deal went south, Kim embarked on a succesful solo career working with the likes of Pete Drodge and Jon Plum, as well as opening for Page/Plant, Pearl Jam, and John Doe among others.
Chimestone has been recognized for powerful and emotional vocals coupled with melodic, driving, and hook-laden musicianship – equal parts pop and rock. Radio friendly while being true to their independent roots, the new release "Chimestone" consists of all original material, with one specially selected cover song – "We Walk the Same Line". Formed in early 1991 by Jake Gordon (vocals), brothers Ryan Schuehle (guitars) and Ted Schuehle (bass), and Paul Michaels (drums), the band first gained local attention in the Seattle live music scene due to their high energy performances. Their debut release "Just For Grins" was the first independent release recorded at Seattle's legendary Bad Animals studio to sell more than 8,000 copies without promotion from a major label. Marco Collins (The Glamour & TheSqualor), then a DJ at Seattle's KNDD (107.7 FM), also known as "107.7 The End", was one of the first to play Chimestone's music. The single "Stolen View" was then featured on KNDD's Sunday evening radio show "The Young and The Restless" and received immediate attention, thus getting into rotation on the station. Not long after, they were chosen by The Seattle Times as one of the city's most promising and talented new musical acts.