When:
March 23, 2022 @ 7:30 pm
2022-03-23T19:30:00-07:00
2022-03-23T19:45:00-07:00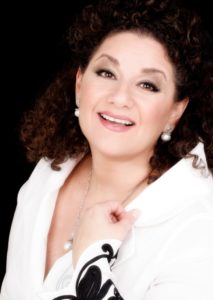 Doors: 6:30pm
Tickets: $15 advance, $20 doors
COVID PROTOCOLS: All events will require proof of vaccination to enter the venue, masks worn unless actively consuming food or drink, and we will be closely monitoring guidelines and recommendations to make sure we are doing everything we can to protect our community.
Advance tickets can only be purchased online-we do not sell advance tickets at the venue. Refunds are not available within 48 hours of the event. Tickets do not guarantee seating during shows at the Royal Room. Seating is currently first come first served. The Royal Room is All Ages until 10pm.
Acclaimed vocalist Sharon Azrieli is joined by pianist-composer Tamir Hendelman and band for an evening of jazz with a bossa-nova flair. Highlights include selections from Azrieli and Hendelman's upcoming album Secret Places, featuring the music of Michael Legrand, out in March 2022. The evening will feature whimsical and romantic tunes performed by two seasoned and endlessly creative artists.
Sharon Azrieli
Originally from Montréal, soprano Sharon Azrieli has enjoyed international success at world-famous venues including Carnegie  Hall, the Metropolitan Opera, the Opéra Bastille de Paris, and with leading organizations such as the Canadian Opera Company, Orchestre Symphonique de Montréal, and the New Israel Opera, among others.
In 2019, she was awarded the National Order of Quebec (Chevalière du Québec) for her remarkable achievements as a performer. Known for her versatility as a singer, Sharon has released several albums, including Sharon Azrieli Sings Broadway (with arranger  Marvin Laird), The Gift of Joy, Rare French Arias of the 19th Century, and Fiddler on the Roof (in Yiddish). Blogcritics praised  her most recent album, Frankly Sharon with Tony Award-winning composer Frank Wildhorn, saying, "Azrieli's softly impassioned  phrasing is exquisite… She has, always, a naturalistic freshness in her voice, which makes it easy – or sound easy – for her to shunt  aside opera's tendency to call forth the mannered and the over-the-top, and sing with balance and grace." Translations for the album  were done in French, Italian, and Hebrew by Sharon herself. Upcoming recording projects include original songs and jazz standards  with the virtuosic pianist & composer Matt Herskowitz, a disc of lullabies, an unusual collection of Canadian Broadway numbers  by Canadian Composers, as well as an album about Jewish Divas of the 19th century which is in the works with renowned conductor  Steven Mercurio.
To learn more about Sharon Azrieli, visit sharonazrieli.com.
Tamir Hendelman
Award-winning pianist-composer Tamir Hendelman is known for his dynamic and sensitive touch. A long-time member of the Jeff Hamilton Trio  and the Clayton-Hamilton Jazz Orchestra, he leads the Tamir Hendelman  Trio and has toured and recorded with Natalie Cole (Still Unfortgettable),  Barbra Streisand (Love Is The Answer, One Night Only: Live at the Village  Vanguard), Roberta Gambarini (Easy to Love), and in duo with Tierney  Sutton, in venues from the US to Europe to Japan .
Tamir Hendelman's own recordings as a leader, Playground and Destinations rose to the top of the jazz charts, receiving critical acclaim for his imaginative arranging, group interplay and musicality.