When:
September 25, 2022 @ 7:00 pm
2022-09-25T19:00:00-07:00
2022-09-25T19:15:00-07:00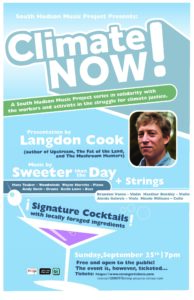 Doors: 6pm
COVID PROTOCOLS: All our staff are fully vaccinated, and we ask that our patrons be vaccinated as well. Our staff will be masked, and we encourage our audience to wear masks as much as possible.
Advance tickets can only be purchased online-we do not sell advance tickets at the venue. Refunds are not available within 48 hours of the event. Tickets do not guarantee seating during shows at the Royal Room. Seating is first come first served. The Royal Room is All Ages until 10pm.
South Hudson Music Project presents the first in its Climate series.
The South Hudson Music Project is a not for profit organization dedicated to partnering with the Royal Room to present programming with a focus on community, artistic engagement, equity, and climate justice.
In that spirit the South Hudson Music Project is proud to announce the first in its Climate Now! series. The goal of the evening is to foster community and camaraderie among the activist community, and to provide a small refuge, if only for an evening, from the grueling and sometimes dispiriting tasks ahead of us in this time of global crisis.
Our first event, in collaboration with the Seward Park Audubon Society is on September 25.  The evening features a presentation by local author Langdon Cook.
Nature's Secret Pantry The woods of the Pacific Northwest are filled with edible delicacies. Join author Langdon Cook on a virtual mushroom hunt and learn about our many kinds of weird and wonderful fungi, how to find them, and how to make gourmet meals with nature's bounty.
The evening will also feature signature cocktails using locally foraged ingredients, and music by Sweeter Than the Day + Strings, acoustic instrumental music by composer Wayne Horvitz.
The event is free and open to the general public. Come celebrate the work we do together, and enjoy music, food, drink, and conversation
Langdon Cook is the author of three books on wild foods including The Mushroom Hunters, winner of the Northwest Book Award. A recipient of a Society of Environmental Journalists Award and two James Beard Award nominations, he lives in Seattle.
"Cook's book is simultaneously lyrical, practical, and quixotic… His essays paint a timeless portrait of the region, evoking its dark ambiguities as well as its brighter joys." —The Seattle Times
Wayne Horvitz and Sweeter Than the Day
Recipient of the 2019 American Prize in Orchestral Composition and the 2016 Doris Duke Performing Artist Award, composer and pianist Wayne Horvitz's work ranges from the recent premiere of a concerto for the Seattle Symphony (featuring guitarist Bill Frisell) to his long association with a myriad of artists including Butch Morris, Gus Van Sant, John Zorn, Robin Holcomb, Reggie Watts etc.  Featuring: Hans Teuber – Woodwinds; Wayne Horvitz – Piano; Andy Roth – Drums; Keith Lowe – Bass; Brandon Vance – Violin; Heather Bentley – Violin; Aleida Gehrels – Viola; Nicole Williams – Cello
… towards a quietly powerful chamber modernism full of eclectic composerly acumen that makes dreamlike reference to jazz, country, folk, and hymn-like material. Delightful and original. Chris Ingham, Mojo (UK)
Upcoming events: October 30th with Climate Solutions; January 2023 with Bike Works.