When:
April 2, 2023 @ 7:30 pm
2023-04-02T19:30:00-07:00
2023-04-02T19:45:00-07:00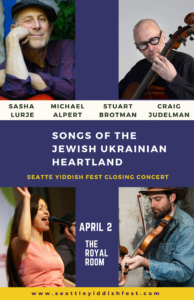 Doors: 6:30pm
Tickets: $20 advance, $25 doors, $15 for students and working musicians at door
Advance tickets can only be purchased online-we do not sell advance tickets at the venue. Refunds are not available within 48 hours of the event. Tickets do not guarantee seating during shows at the Royal Room. We are now accepting reservations for diners! Please email reservations@theroyalroomseattle.com for a table. The Royal Room is All Ages until 10pm. All our staff are fully vaccinated, and we ask that our patrons be vaccinated as well.
Michael Alpert, Stuart Brotman, Sasha Lurje and Craig Judelman present: Songs of the Jewish Ukrainian Heartland
As war rages on in one of the cradles of Yiddish culture, we join together to sing the songs and tell the stories of our shared homeland – tales of forbidden loves, boy soldiers, the wonders of nature and looming danger. Ukraine is a heartland of Yiddish music and the source of our most important collections of old-time klezmer tunes and folk songs. In this program four of the world's most in-demand klezmer musicians bring this diverse repertoire to life, painting a picture of Jewish life in Ukraine then and now, raising money and awareness and standing in solidarity with our friends fighting for their freedom.
The closing concert of Seattle Yiddish Fest – a 3 day celebration of Yiddish culture featuring workshops jam sessions, lectures, dances and more – as well as the last stop of a 5 week tour by Alpert, Lurje and Judelman. It is also the Seattle area album-release show for a new record by Alpert and Judelman, titled 'In Der Heym', available now on Borscht Beat records.
Michael Alpert is one of the best-known contemporary Yiddish culture-bearers and a leader of the international revitalization of Yiddish music and dance since the 1970's. A US National Heritage Fellow known for his work with Brave Old World, Kapelye, Itzhak Perlman and many others, he is joined by two of the driving forces in the vibrant Berlin klezmer scene and far beyond – celebrated Latvian singer Sasha Lurje and American violinist, composer and arranger Craig Judelman. For this concert they are thrilled to feature special guest Bassist Stuart Brotman, himself one of the longest standing members of the 'klezmer revival', known for his work with Veretski Pass and Brave Old World, in addition to Canned Heat, Kaleidoscope and many many more.
The Band:
Michael Alpert – Guitar, Fiddle, Voice
Craig Judelman – Fiddle, Voice
Sasha Lurje – Voice
Stuart Brotman – Bass