When:
December 7, 2022 @ 7:30 pm
2022-12-07T19:30:00-08:00
2022-12-07T19:45:00-08:00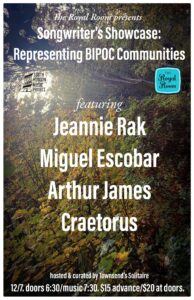 Doors: 6:30pm
COVID PROTOCOLS: All our staff are fully vaccinated, and we ask that our patrons be vaccinated as well. Our staff will be masked, and we encourage our audience to wear masks as much as possible.
Advance tickets can only be purchased online-we do not sell advance tickets at the venue. Refunds are not available within 48 hours of the event. Tickets do not guarantee seating during shows at the Royal Room. Seating is first come first served. The Royal Room is All Ages until 10pm.
JEANNIE RAK
Thailand-born, Jeannie Rak: hard-working busker turned recording artist, Jeannie's style pulls heavily from top 40s r&b and pop hits, but with a completely unique twist of her own: sincerity, performance chops, and charm. Her original music tells stories of her life as a longtime immigrant and certified queer romantic.
MIGUEL ESCOBAR
Chicago-born graduate student. Interested in politically-conscious self-inquiry; public, shared questioning; and sounds that make a big brown man feel beautiful.
ARTHUR JAMES
Born in Riverside, California, the oldest child in a military family, Arthur James has been traveling all his life. His songs are the landmarks of his journey and they paint vivid landscapes of the many thousands of miles he's seen in a struggle to find the meaning of 'home'.
In 2012, the singer-songwriter found himself in Seattle, WA. He released an EP called The 4th Floor in 2014 comprised of songs written about his close friends lives and their real-life experiences.
The 4th Floor was followed up with Anyway…Here's "Wonderwall" in 2016. This EP was inspired by Alan Lightman's novel, Mr g. After experiencing Lightman's finesse in describing what might have existed before the universe was created, Arthur wanted to write about just that – the absence of everything. The record includes a cover of the song, Liars, by Ron Scott which was made popular by Gregory Alan Isakov.
His new EP, Heckraiser, is now available. The album was written in an effort to further expand on Arthur's instrumental and vocal abilities. It was tracked in his home in Seattle, then sent to be mixed and mastered by Sean Downes in Minot, ND. Heckraiser includes a cover of Brittle Boned by Julien Baker and a song written specifically for his dad called Father's Size.
His lyricism lends to his patience and attention to the substance of every song, with nods to his influences, Gregory Alan Isakov, David Bazan, Beth Orton, Brandi Carlile, Dolores O'Riordan and John K. Samson.
CRAETORUS
Starting as a solo musician from late 2017 to 2021, Darla Rae (front person of Craetorus) has been making moves to push for inclusivity and diversity in the music scene since. Their lyrics are described as contemplative, with tinges of catchiness, but enough to leave you with catharsis and a yearning for self reflection. Musically sounding in the likes of jazz, r&b, psychedelia, prog rock and indie, they've somehow made a conglomeration of it all to make Craetorus' sound distinct of others. Releasing their first single titled, "Ivy" since April of 2019, they've been on the path to musical discovery with the backings from Jon Garber, Lychen Gipaya and Ryan Anthony Brooks. Catch them soon with an EP release in 2023 titled, "Odes to the Toads".
Curated by Townsend's Solitaire