When:
June 20, 2021 @ 7:30 pm
2021-06-20T19:30:00-07:00
2021-06-20T19:45:00-07:00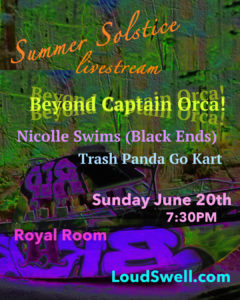 Beyond Captain Orca! is an instrumental trio consisting of legendary producer and Skinyard member Jack Endino on guitar, 5-Track on bass and Patrick Lenon on drums (they are often joined by guest musicians). BCO! specialize in epic instrumentals that explore the fiery, galaxy-brained territory staked out by krautrock mind-expanders such as Ash Ra Tempel and Agitation Free as well Japanese (t)rippers such as High Rise and Acid Mothers Temple. BCO! display classic power-trio telepathy and sky-scraping interplay moving from peak to peak with a kind of muscular transcendence. Very few bands in the pacific northwest are going as deep and as long as these guys do. [Dave Segal, The Stranger]
Trash Panda Go Kart is a partner duo with 5-Track on guitar and Zinnia on drums. Both sing. TPGK originated in Seattle and has gleefully diasporized to the greater Pacific Northwest. Imagine The Breeders, The Ramones, The Velvet Underground, and The Vaselines filtered through raccoons. No raccoons, real or imagined, are harmed in the making of this music. "Heavy, yet whimsical." — P Jo
Nicolle Swims, of local gunk-pop trio Black Ends, takes immediate charge with her commanding guitar playing, channeling catchy riffs and bluesy sensibilities through warped effects, scuzzy tones, and math-rock jolti-ness. The recurring lyrical theme of alienation found in Swims' music is enhanced by her unique and cryptic vocal delivery which embraces her outsider status. In March 2019, her band released their debut EP, Sellout, which has been widely acclaimed within the Seattle music scene, getting featured in such publications as the Seattle Times, The Stranger and KEXP. Join us tonight for a solo set of Swims' music, stripped down from its regular trio context.
Join us for our recurring series titled 'Staycation Festival', a series of streaming events at the Royal Room, co-hosted by Loudswell.
You can stream the show at Loudswell.com, and on The Royal Room Facebook page.
Both sites will have a link to donate to the artists.
Performed live on The Royal Room stage, following all Washington State Department of Health guidelines.