When:
May 23, 2021 @ 7:30 pm
2021-05-23T19:30:00-07:00
2021-05-23T19:45:00-07:00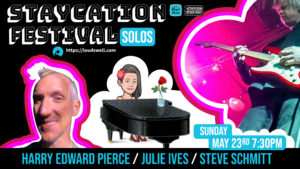 Songwriter, composer, improviser and multi-instrumentalist Harry Edward Pierce plays a hodgepodge of styles inspired by Americana, jazz and blues and modern classical music as well as influences ranging from the Balkans to Cuba and north to the Pacific Northwest coastal native tribes. The son of a coffee house jazz singer, guitarist, arranger mother and a club owning jazz saxophonist/professional entertainer father who was a Seattle jazz legend, Harry Edward Pierce has been surrounded by professional musicians and creators all his life. On this concert Harry Edward Pierce will be touching the faces of the past as he reaches back to grab the sounds and memories of those now gone with songs and improvisations that tell the stories of those who've inspired him with the sacred sounds of music. "The gift and the treasure of music are sacred and link us to age old traditions of those who were here before, it connects us in ways that are spiritual and emotional as it tells us rare stories to remind us of who we are what we believe in and where we come from." – Harry Edward Pierce
Julie Ives returns to the stage with an eclectic mix of 20th century music for solo piano from Takemitsu, Ravel and Scriabin. A graduate of Cornish College, Julie is known for her dynamic performances of new and contemporary music for solo piano and chamber ensemble, including numerous premiers of new work by local composers.  After a long hiatus from the performance world, she is back with a set of short pieces by three of the most creative and intentional composers of the previous century. Julie maintains a busy teaching studio, with students throughout Central and South Seattle.
Hailing from a creative family whose father and two aunts attended Black Mountain College and were influenced by greats like John Cage and Merce Cunningham, musician Steve Schmitt shared their artistic drive. As a youngster he discovered rock & roll and began playing guitar, and in 2003 Dave Abramson and Schmitt started Diminished Men, later adding Simon Henneman. The group draw from styles as diverse as 70s Italian film music, Turkish psych rock, be-bop, Avant-garde jazz and experimental music. Current projects include various film scores, solo compositions and fighting over the next Diminished Men album cover art.
Join us for our recurring series titled 'Staycation Festival', a series of streaming events at the Royal Room, co-hosted by Loudswell.
You can stream the show at Loudswell.com, and on The Royal Room Facebook page.
Both sites will have a link to donate to the artists.
Performed live on The Royal Room stage, following all Washington State Department of Health guidelines.