When:
June 27, 2021 @ 7:30 pm
2021-06-27T19:30:00-07:00
2021-06-27T19:45:00-07:00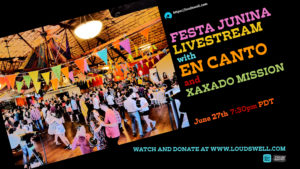 Join two of the West Coast's best Brazilian forró bands, En Canto and Xaxado Mission, in an exuberant celebration of Festa Junina (June Festival)! Second only to Carnival, Festa Junina is a national Brazilian holiday, marking the end of the rainy season and hailing the harvest. At a Festa Junina party, you'll see brightly colored flags, you'll smell roasting corn, and you'll see people dancing to forró, the upbeat "country music" of Brazil!
Forró music first developed in northeast Brazil, where farmers created songs about their daily lives. The traditional forró instruments speak to its multicultural origin: the zabumba (Afro-Brazilian drum), and the accordion and the triangle (from European immigrants). This unique mix of African/European instruments, along with an upbeat rhythm, gives forró a striking similarity to Cajun music.
For Festa Junina, En Canto (Seattle) and Xaxado Mission (San Francisco) will serve up a rich forróbodo—"fun without limits"! En Canto, a 7-piece orchestra, features twin accordions, as well as bass, drums, piano, and flute. The band brings music flavored with the musicians' jazz backgrounds, while staying true to the driving rhythms of forró. Xaxado Mission brings the traditional forró trio—zabumba, accordion, and triangle—producing an irresistible "heartbeat" of syncopation that draws all ages onto the dance floor! Both bands play classic and contemporary forró music, including songs by Luiz Gonzaga, Mestrinho, Sivuca, and others.
Vamos! Let's go!
Featuring:
Adriana Giordano – voice, triangle
Jamie Maschler – accordion
Gabe Hall-Rodrigues – accordion, voice, piano
Meese Agrawal – flute
Jeff Busch – drums/percussion
Sam Esecson – drums/percussion
Dean Schmidt – bass
Mike Withey – piano
André França – zabumba
Adrian Crookston – accordion
Diana Di Battista – voice, triangle
Photo credit: L. Elizabeth Carpenter – Copyright 2019
Join us for our recurring series titled 'Staycation Festival', a series of streaming events at the Royal Room, co-hosted by Loudswell.
You can stream the show at Loudswell.com, and on The Royal Room Facebook page.
Both sites will have a link to donate to the artists.
Performed live on The Royal Room stage, following all Washington State Department of Health guidelines.