When:
June 13, 2021 @ 2:44 pm
2021-06-13T14:44:00-07:00
2021-06-13T14:59:00-07:00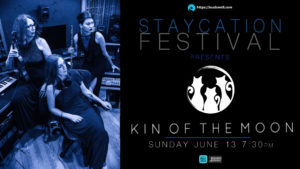 Kin of the Moon is a 501(c)3 non-profit corporation founded by a trio of performer/improviser/composers who have created a resonant space where their individual musical inspirations are amplified by the vast possibilities that collaboration fosters.
KOTM extends the spirit of collaboration to connections with artists within the Seattle community, along the West Coast corridor, and through technology, to like-minded artists around the globe. Acknowledging that ideas are nurtured by community, KOTM seeks out artists and organizations to partner with in service to the concept of promoting ever-expanding programs fueled by circles of involvement and manifesting unique local identity.
The music of the KOTM ensemble is fully informed by classical music, world music, new music, and contemporary jazz, with deep inquiry and ongoing involvement with the role of technology in creating new performance soundscapes. Their commitment to exploring sonic communication through a broad approach to improvising is woven into their original composed works, audience participation rites, and spontaneously created pieces.
Ensemble members – violist Heather Bentley, flutist Leanna Keith, and vocalist/composer Kaley Lane Eaton – are conservatory trained musicians who each serve on the faculty of the Cornish College of the Arts where they bring their commitment to deeply disciplined individual work combined with an open-minded commitment to fostering communities and a lifelong collaborative spirit to the next generation of musicians.
KOTM believes that the pursuit of higher vibrational states, whether through Music, movement, artistic creation, scholarship, or any kind of curiosity, is the destiny of humanity, and is the birthright of every person on this beautiful planet.
Featuring:
Heather Bentley – viola
Leanna Keith – flute
Kaley Lane Eaton – vocals, piano
Join us for our recurring series titled 'Staycation Festival', a series of streaming events at the Royal Room, co-hosted by Loudswell.
You can stream the show at Loudswell.com, and on The Royal Room Facebook page.
Both sites will have a link to donate to the artists.
Performed live on The Royal Room stage, following all Washington State Department of Health guidelines.