When:
March 14, 2021 @ 7:30 pm
2021-03-14T19:30:00-07:00
2021-03-14T19:45:00-07:00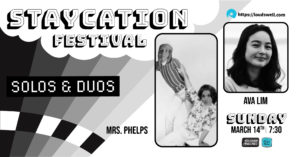 Join us on Sunday evenings for the 2021 South Hudson Music Project Staycation Festival, featuring live solo and duo performances by Seattle based musicians and improvisers. On March 14th, hear a duo set from Kate and Clare Molloy and a solo set from Ava Lim. This performance will be streamed at loudswell.com
Mrs. Phelps is a roots and soul leaning group of young local musicians Clare and Kate Molloy. The band is built around the two cousins, Kate who plays keyboard and Clare who sings. Both have been playing together professionally since they were in the 4th and 5th grades respectively. Now as 9th and 10th graders, they are relative veterans of the local scene who deliver sophisticated vocality and musicianship on the stage. Their set will comprise a duo performance of their usual 5-piece band, making for an intimate and collaborative performance.
Ava Lim is a freshman saxophonist at the University of Washington studying jazz and classical music. She is involved within many facets of music at UW, including Wind Ensemble, Jazz Combos, Husky Marching Band, Kappa Kappa Psi Honorary Band Service and Leadership Organization, and multiple student organizations. She was a student of Seattle JazzEd for 3 years and grew close to The Royal Room after the many performances with peers, mentors, and friends that occurred in at the venue. Her set will be something between a meditation, an exploration and a performance featuring a saxophone and a singing bowl.
Join us for our recurring series titled 'Staycation Festival', a series of streaming events at the Royal Room, co-hosted by Loudswell.
You can stream the show at Loudswell.com, and on The Royal Room Facebook page.
Both sites will have a link to donate to the artists.
Performed live on The Royal Room stage, following all Washington State Department of Health guidelines.