When:
March 7, 2021 @ 7:30 pm
2021-03-07T19:30:00-08:00
2021-03-07T19:45:00-08:00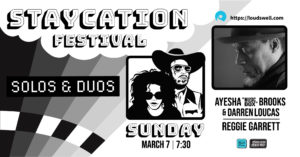 Join us on Sunday evenings for the 2021 South Hudson Music Project Staycation Festival, featuring live solo and duo performances by Seattle based musicians and improvisers. On March 7th, hear a duo set from Ayesha Brooks and Darren Loucas and a solo set from Reggie Garrett.
Reggie Garrett is a guitar player and singer based in Seattle. His music derives from folk and blues and his sonorous singing and voice reflect the folk, rock, gospel and blues traditions he grew up around. He is well-known for his ensemble, Reggie Garrett and the SnakeOil Peddlers an acoustic trio which has been traveling and performing throughout the U.S. and Canada for over 20 years.
"Smooth, emotional and warm, he shows that there are more connections than differences between Blues and Folk. It's been too long since we've had someone like this – Bill Withers, Richie Havens – and Garrett stands firmly in his own corner, as strong a writer as he is interpreter." – Dirty Linen
Ayesha Brooks is a singer and songwriter based in Seattle. Often performing under her alter ego or moniker name "Musicbox", it is clear that music is reflected in everything Brooks does. She has sung with The Wayne Horvitz Songs Project, Imagine the Giant, and different rock groups within Seattle. Her soulful and canorous voice is expressive and deeply moving within any context or musical setting.
"Her voice continues to draw heads in local venues, including the Royal Room, where she's collaborated with local blues outfit the Jelly Roll­ers, in tributes to Aretha Franklin, and with Horvitz on stirring tributes to the Grateful Dead." – Ian Gwin Earshot Jazz
Darren Loucas is a guitarist, singer and songwriter based in the Pacific Northwest. His songs and artistic voice are derivative of folk and blues music. He has performed with such artists as Wayne Horvitz, Robin Holcomb and Bill Frisell amongst others. With his own sound and love for blues guitar, he adds his own lyrical, and melodic interpretations through his raspy voice and raw approach to the music.
"His guitar playing is a revelation." – The Stranger
Join us for our recurring series titled 'Staycation Festival', a series of streaming events at the Royal Room, co-hosted by Live Concerts Stream.
You can stream the show at Loudswell.com, and on The Royal Room Facebook page.
Both sites will have a link to donate to the artists.
Performed live on The Royal Room stage, following all Washington State Department of Health guidelines.