When:
April 18, 2021 @ 7:30 pm
2021-04-18T19:30:00-07:00
2021-04-18T19:45:00-07:00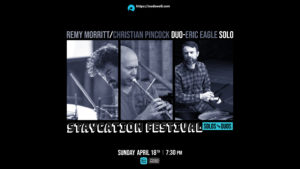 Join us on Sunday evenings for the 2021 South Hudson Music Project Staycation Festival, featuring live solo and duo performances by Seattle based musicians and improvisers. On April 18th, hear a duo set from Christian Pincock and Remy Morritt and a solo percussion set from Eric Eagle. This performance will be streamed at loudswell.com
Eric Eagle is a first call drummer in Seattle. Known for his adaptive and fluid approach, Eagle plays in a multitude of different musical contexts and ensembles. He has recorded with Jesse Sykes, Amy Ray, Wayne Horvitz, Mark Pickeral, Danny Newcomb, Dave Peck, and has produced records with The Westerlies, Naomi Siegel, and The Seattle Symphony (featuring Bill Frisell) amongst others. For this performance he will present an intimate set of solo percussion.
Christian Pincock (trombone, electronics) and Remy Morritt (drums) are constantly seeking to expand their range of expression in improvisations and original compositions. Christian uses a variety of electronics, software and custom-made controllers to add richness, complexity and conversation to his warm and dynamic trombone sound. Remy adds energy and intuitive awareness to the mix. On April 18th, they will play the music of Christian's "Tightrope" project and amongst other original music.
"A lot of fire and energy" — Dave Liebmen
Join us for our recurring series titled 'Staycation Festival', a series of streaming events at the Royal Room, co-hosted by Loudswell.
You can stream the show at Loudswell.com, and on The Royal Room Facebook page.
Both sites will have a link to donate to the artists.
Performed live on The Royal Room stage, following all Washington State Department of Health guidelines.