When:
May 2, 2021 @ 7:30 pm
2021-05-02T19:30:00-07:00
2021-05-02T19:45:00-07:00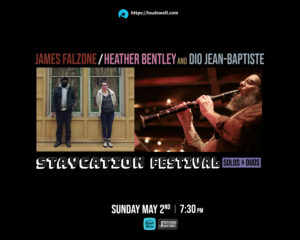 Heather Bentley and Dio Jean-Baptiste (Heather/Dio Duo) met at Racer Sessions years ago and started exploring the intersection between viola and drums for audiences of zero, or one, or hundreds. Their longform improvisations explore time, texture, interaction, sonority, space, and architecture…and of course, rhythm. They have collaborated with VJ Darren Palmer on livestreams and live shows, and have performed at Cafe Racer, Spite House, Chapel Performance Space, and Velocity Dance Center with Karin Stevens Dance. This is the first time the Heather/Dio Duo has played at the Royal Room.
Clarinetist, composer, and improviser James Falzone is an acclaimed member of the international jazz and creative music scenes. A veteran contemporary music lecturer, clinician, and award-winning composer, he has been commissioned by chamber ensembles, dance companies, choirs, and symphony orchestras around the globe. Educated at Northern Illinois University and New England Conservatory, James is also a respected educator and scholar and has been on the faculty of The School of the Art Institute of Chicago, Deep Springs College, North Central College, and was a fellow at The Center for Black Music Research. At present James is the Chair of Music at Cornish College of the Arts.
Join us for our recurring series titled 'Staycation Festival', a series of streaming events at the Royal Room, co-hosted by Loudswell.
You can stream the show at Loudswell.com, and on The Royal Room Facebook page.
Both sites will have a link to donate to the artists.
Performed live on The Royal Room stage, following all Washington State Department of Health guidelines.