When:
February 28, 2021 @ 7:30 pm
2021-02-28T19:30:00-08:00
2021-02-28T19:45:00-08:00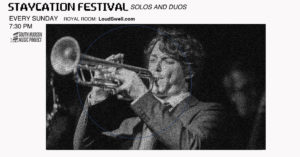 Join us on Sunday evenings for the 2021 South Hudson Music Project "Staycation Festival", featuring live solo and duo performances by Seattle based musicians and improvisers. On February 28th, hear solo sets from Hans Teuber, Keith Lowe and Ray Larsen.
Hans Teuber is a saxophonist and composer based in Seattle. He has been a mainstay on the Northwest jazz scene for over 30 years and carries his own unique style in every musical context he finds himself in. Teuber has worked with such artists as Wayne Horvitz, Jeff Johnson, and Clay Giberson amongst others. Having grown up in a musical landscape and upbringing, with his mother being a singer and his father a French horn player, Tueber's versatile and melodic background has allowed him to play a variety of music, from the hums of Brazilian music to the distinctive and rhythmic styles of Bebop. Inspired by the sounds of Stan Getz, Clifford Brown and Lee Konitz, Teuber plays his instrument with humility and love for his mentors and the people who made the music.
"Hans Teuber has a really wise musical soul, his rich and wide background nurtures every situation he is involved in, in the most humble and generous way possible" – Marina Albero
Keith Lowe has over 35 years of performing experience on both electric and acoustic bass. He studied classically for 15 years before moving on to rock, roots and jazz where he has backed such artists as Fiona Apple, Wayne Horvitz, Bill Frisell, David Sylvian, Stone Gossard, and Harold Budd. He has a very diverse background, performing most any style of music including rock, jazz, country, classical, bluegrass, folk, electronic, etc. This wide ranging and comprehensive approach to music has resulted in a tuneful, solid, and eclectic style that has him in demand both as a performer and studio musician.
"Keith is one of the best all-around bass players in town." – Paul Kemmish,
Ray Larsen is a trumpet player and composer based in Seattle. He is recognized for his unique and spirited approach to the instrument as well as his own distinctive writing style. He co-leads such groups as Tyrant Lizard, The Sky is a Suitcase and Chemical Clock and has reordered and performed with such artists as Wayne Horvitz, Jacob Zimmerman and Carmen Rothwell amongst others. As an active member of Seattle's improvised music scene, Larsen enjoys working in creative improvised music, jazz and across broad ranges of musical contexts and styles. Over the last ten years alone, Ray has released five albums of his own work, his most recent being Art in America, a collective portrait of the country's current unrest, through archived musical performances, field recordings, stories, interviews and dialect samples all collected from the Library of Congress.
"Ray Larsen's ability to play in more free, improvised formats, as well as expressing his roots within swing and bop rhythms, gives him a very unique and original voice that is gaining notice on a national scale." – Paul Rauch, All About Jazz
Join us for our recurring series titled 'Staycation Festival', a series of streaming events at the Royal Room, co-hosted by Live Concerts Stream.
You can stream the show at Loudswell.com, and on The Royal Room Facebook page.
Both sites will have a link to donate to the artists.
Performed live on The Royal Room stage, following all Washington State Department of Health guidelines.