When:
April 4, 2021 @ 7:30 pm
2021-04-04T19:30:00-07:00
2021-04-04T19:45:00-07:00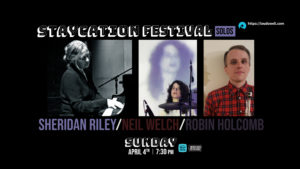 Join us on Sunday evenings for the 2021 South Hudson Music Project Staycation Festival, featuring live solo and duo performances by Seattle based musicians and improvisers. On April 4th, hear sets from Robin Holcomb, Sheridan Riley and Neil Welch. This performance will be streamed at loudswell.com
Saxophonist Neil Welch performs a solo, acoustic set guided by the natural environments of the PNW. Playing soprano, tenor and bass saxophones, his work will endeavor to reflect the torrent of icy rivers, lush vegetation, sweeping mountain terrains, and an abundance of wildlife. He will explore a vastness of sonic possibilities on the saxophone, from air and whistle tones, to soulful melody.
"Fearless, raw improvisations" – The Seattle Times
Robin Holcomb is a pianist, singer, composer and songwriter based in Seattle. She has performed internationally as a solo performer and as a leader of various groups at venues including but not limited to Carnegie Hall, the Meltdown Festival, the United Nations, the Seattle Opera House and Earshot Jazz Festival. Her music and sound are a reflection of the various environments she has encountered ranging from the deep south to the west coast, meanwhile absorbing influences of popular, folk, contemporary classical and avant-garde music.
"Robin Holcomb has created a new American regionalism, spun from many threads–country, rock, minimalism, Civil War songs, Baptist hymns, Appalachian folk tunes, even the polytonal music of Charles Ives. The music that results is as elegantly simple as a Shaker Quilt, and no less beautiful." [The New York Times]
Sheridan Riley is a drummer/percussionist using acoustic and electronic textures to play with the contradictions, juxtapositions, surprises, discomforts and pleasures that give form to emotional existence. She is perhaps best known for her work with the Canadian dream pop band ALVVAYS and the band Avi Buffalo. Locally she has often been seen at The Racer Sessions.
Join us for our recurring series titled 'Staycation Festival', a series of streaming events at the Royal Room, co-hosted by Live Concerts Stream.
You can stream the show at Loudswell.com, and on The Royal Room Facebook page.
Both sites will have a link to donate to the artists.
Performed live on The Royal Room stage, following all Washington State Department of Health guidelines.