When:
December 23, 2019 @ 5:30 pm
2019-12-23T17:30:00-08:00
2019-12-23T17:45:00-08:00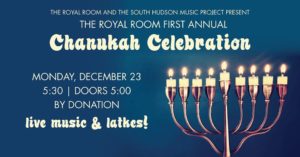 To guarantee a good seat, please make your dinner reservation through our reservations page on our website.
Live Music and Latkes!
–"I am What I Am" plays the music of John Zorn's Masada, featuring: James Falzone, Wayne Horvitz, Darren Loucas, Geoff Harper, Evan Woodle
–The Klein Party
–Orkestyr Farfeleh
—Brivele
—Ari Joshua Quartet – jazz quartet holiday classics
The Klein Party explores Top One Million songs from all the Old Countries. This clarinet-saxophone-accordion-ukulele-bass quintet brings a jazz sensibility to klezmer freylachs and bulgars, gypsy dance music, sentimental Italian tunes, novelty Americana, country-and-western favorites, Yiddish theatre music and the occasional opera aria. Featuring: Eric Ray Anderson, ukulele & vocals; Brandon Campbell, saxophones; Joe Casalini, contrabass; Mark Lutwak accordion; Sabrina Pope, clarinet.
Orkestyr Farfeleh the winsome concoction of Harvey Niebulski and Marianne Tatom, is a portable feast for lovers of Jewish music, replete with freylakhs, Eastern European folk tunes, and Yiddishkayt. Performing on accordion, clarinet, and vocals, they present their diverse material with sharp ears, quick fingers, and irrepressible humor, in a program sure to delight young and old alike.
Brivele is a Seattle-based anti-fascist klezmer folk-punk trio who braid together oral history, Yiddish language, contemporary and old-country musical genres, American Vaudeville, and visual arts. Brivele is pronounced "BREE-veh-leh" (בריוועלע) and means "Little Letter" in Yiddish.
Ari Joshua was born in Cape Town, South Africa. He spent his teens and early 20's in NYC studying and playing with the great legends and teachers at The New School. He moved back to the NW and started the Music Factory – a music school that has taught over 5,000 individuals in the area, and employed over 30 local artists. Ari's guitar playing will impress aficionados of all musical styles & tastes, his passion is equally in psychedelic rock, jazz, bluegrass, and electronics. Ari has played and recorded many great players notably in 2019 he is working currently on recordings with his hybrid trio AriSawkaDoria, as well with The Benevento Russo Duo, Peter Buck, Barrett Martin,  Robert Glasper, and many more.
PLEASE NOTE – OUR KITCHEN IS *NOT* KOSHER
No cover charge. The musicians are compensated by your donations.