When:
November 7, 2021 @ 7:00 pm
2021-11-07T19:00:00-08:00
2021-11-07T19:15:00-08:00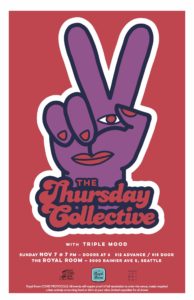 Doors: 6:30
Tickets: $12 advance, $15 doors
COVID PROTOCOLS: All events will require proof of vaccination to enter the venue, masks worn unless actively consuming food or drink, and we will be closely monitoring guidelines and recommendations to make sure we are doing everything we can to protect our community.
To guarantee a good seat, please make your dinner reservation through our website
Advance tickets can only be purchased online-we do not sell advance tickets at the venue. Refunds are not available within 48 hours of the event. Tickets do not guarantee seating during shows at the Royal Room. The Royal Room is All Ages until 10pm.
Join us for a fun night of music featuring The Thursday Collective, a high energy funk band, and Triple Mood, a jazz/funk group.
The Thursday Collective is: John Tomlinson (Keys/Organ), James Sloan (Guitar, Baritone Sax), Ted Gauld (Guitar), Steve Germiat (Bass), Jason Van Pelt (Drums), Dave Erickson (Tenor Sax).
John is trained in classical and jazz piano and organ, with experience from 60's garage to gospel, soul, country and rock. Has been recording and performing in the northwest for many years with a variety of back-up bands and now has returned to his first love, the Hamond B-3. John's love for keys began with classical piano training and grew to include jazz and gospel. When he was offered a Hammond B-3 if he could get it out of a basement, he expanded again, developing an infectious jazz/rock/funk sensibility.
From the beginning of his life James has been surrounded by music. His father, Gary "Alaska" Sloan started the first blues band in Alaska in the early sixties; James & his identical twin brother Gary grew up watching dad perform until they were ready to join him on stage as his horn section. In middle school James fell in love with the versatility of the guitar and played in jazz ensembles at the University of Arkansas & the University of Washington. James appreciates a broad range of genres and has gigged, recorded, and composed with groups performing jazz, rock, pop, bossa nova, big band, avant-garde, funk, country, and blues. Presently James plays clubs, weddings, musicals, choir concerts, and more in the greater Seattle area, records in his home studio, and does live sound.
Ted is trained in classical piano and guitar, with additional experience playing jazz, rock, and funk. He's been recording and performing in the northwest for many years with a variety of bands including the Clubhouse Band, Tuesday Cat, Raven Lunatic, Special Snowflake, and Baby Monitor.
Steve has been playing bass guitar in a variety of musical settings for more than 40 years, including the last 30 in Seattle. He plays both a fretless bass and a 5-string bass.
Jason is excited to enter the Seattle music scene after playing the drum set with various groups in and around New York. Currently, Jason is focusing on expanding his rhythmic diversity while building on his feel of the jazz/funk genre.
Dave Erickson was born and raised in pacific northwest and started playing saxophone in bars with local jazz musicians such as Dvonne Lewis, Ev Stern, and Tim Kennedy at the age of 16. Along with the jazz greats, Dave grew up listening to the Crusaders, Maceo Parker, the Brecker Brothers and other musicians on the funkier side of the fence whose language he gets to explore with the Thursday Collective.
---
Triple Mood is an experimental jazz-funk trio comprised of bassist/vocalist Kaeli Earle, drummer/sound engineer Alex Roemmele, and keyboardist/sax player Conner Helms. Inspired by their mutual love of jazz, they play a mixture of standards and Earle's originals, and never play a song the same way twice.
From their inception as a local jazz group in 2012, Triple Mood has been warmly embraced by audiences reaching down the West Coast, playing at venues such as the Jazz Station in Eugene, OR and Winston's in San Diego, CA and most recently at a number of festivals including Seattle Hempfest, the Stillaguamish Festival of the River in Stillaguamish, WA and the Lancaster Music Festival in the United Kingdom.
Seattle music blogger Dan's Tunes had this to say:
"The group had a laid-back, unafraid to err, yet completely confident and capable vibe. Earle's aura was joyously infectious, and her voice is easy and smooth, gliding over the audience's heads and into whatever part of your brain makes you smile just because you f*cking feel like it."